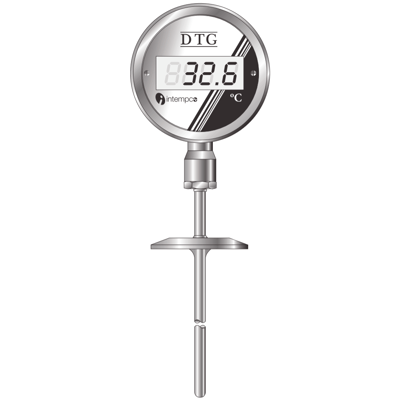 Images are representations only.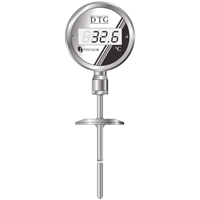 The DTG91 Series Digital Temperature Gauge is a complete solution for most sanitary temperature monitoring and temperature indicating applications.

This gauge features large 4-digit LCD display. DTG can be factory calibrated to customer specified temperature range, in units of °C or °F. The DTG wetted parts, as well as the housing, are fabricated from 316 stainless construction.

Many types of sanitary connection fittings are available with standard and pharmaceutical finishes.

The probe is either of 1/4" or 3/8" diameter as standard. As an option, other diameters and materials are available. The sensing element used is Pt-1000 Ohm RTD accuracy to IEC751 Class A.
Features
Sanitary 3-A qualified
Large 4-digit LCD display
Field re-programmable with optional PC interface module and software
Security password and tracking protection for re-programming and re-calibration
Utilizes self-calibration feature for accurate and stable performance
Utilizes Pt-1000 Ohm RTD Class A element for temperature sensing
IP 65/NEMA 4 rated environmental protection
All stainless steel 316 construction
Easy installation with various mounting configurations
Specifications
Accuracy
± (0.2 + 0.001 x |T|) °C, ± (0.36 + 0.001 x |T-32|) °F Optional
± (0.2 + 0.002 x |T|) °C, ± (0.36 + 0.002 x |T-32|) °F Standard Factory
Ambient Temperature Range
0° to 50° C (32° to 122° F)
Approvals & Certifications
Cable Length
15 feet (5 metres)
6 feet (2 metres)
Cable Material
PVC Insulation 90° C (195° F) - Max.
Silicone Insulation 200° C (392° F) - Max.
Teflon Insulation 200° C (392° F), with Stainless Steel Armour & Polyolefin Shrink 90° C (195° F), Teflon Shrink 200° C (392° F) - Max.
Diameter
Sheath Outer Diameter: 1/4 to 5/8" (6.4 to 15.9 mm)
Tip Outer Diameter: 1/8 to 1/4" (3.2 to 6.4 mm)
Display
4-Digit LCD Display 1/2" (12.7 mm)
Mounting
Back Mounting
Bottom Mounting
Direct Mounting
Panel Mount
Side Mounting (Right, Left, Display Front & Back)
Top Mounting
Operating Pressure
Probe - psig: 500 (kPa: 3,447, bar: 34.47) - Max.
Resolution
Display: 0.01 at Viewable Range -58 to 99.99
Display: 0.1 at Viewable Range -58 to 392
Display: 1 at Viewable Range -58 to 1,112
RTD Type
Pt100 DIN EN 60751, Class A
Pt1000 ohm, Class A
Sensor, Probe Diameter
1/4" to 1/2" (6.3 to 12.7 mm)
Sensor, Probe Material
316 Stainless Steel
316L Stainless Steel
Sensor, Probe Type
RTD 3-Wire, Class A DIN IEC 60715
Storage Temperature
-20° to 70° C (-4° to 158° F)
Temperature Effect
< 0.01 % of Full Scale/°C
Temperature Range
Sensor: -200° to 600° C (-328° to 1,112° F)
Tri-Clamp Connection
1" Sanitary Clamp (Hygienic Clamp Union, Cherry-Burrell, Bevel Seat, John Perry)
1.5" Sanitary Clamp (Hygienic Clamp Union, Cherry-Burrell, Bevel Seat, John Perry)
2" Sanitary Clamp (Hygienic Clamp Union, Cherry-Burrell, Bevel Seat, John Perry)
2.5" Sanitary Clamp (Hygienic Clamp Union, Cherry-Burrell, Bevel Seat, John Perry)
3" Sanitary Clamp (Hygienic Clamp Union, Cherry-Burrell, Bevel Seat, John Perry)
For Sanitary 3A Applications
Ideal Replacement for Bi-metal, Liquid Bulb and Gas Thermometers
Pharmaceutical
Food Preparation
Milk and Dairy
Pasteurizers
Sterilizers