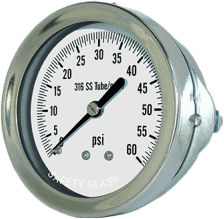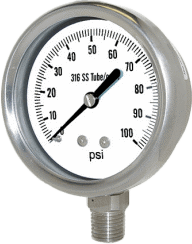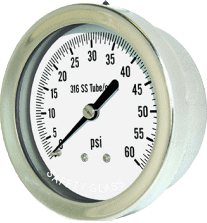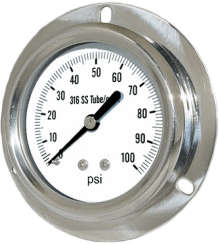 Images are representations only.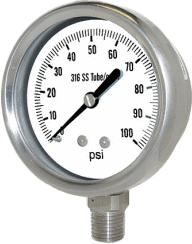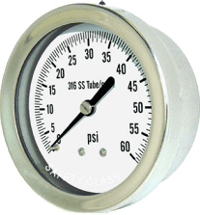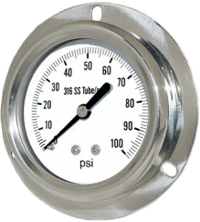 Our 300 series gauges feature all stainless, welded case to stem designs in sizes ranging from 1.5" to 10".

These units come dry but fillable or filled with glycerin or silicone.

The 300 series cases feature a crimped design or removable bezel. They are resistant to vibration and chemical damage.

Heavy duty, all stainless steel gauge with removable bezel, adjustable pointer 1% accuracy, welded case-to-stem connection, dry yet fillable.
Specifications
Dial
1-1/2" (40 mm)
2" (50 mm)
2-1/2" (63 mm)
4" (100 mm)
Mount
Lower Mount
Back Mount
Back Connection, U-clamp Panel Mount
Back Connection, Front Flange Panel Mount
Bottom Connection, Back Flange Wall Mount
Back Connection, Back Flange
Connection
1/8" NPT, 1/4" NPT, 1/2" NPT
Scale
Standard: psi/bar (x 100 = kPa)
Accuracy
3-2-3 % of span (Grade B) for 1-1/2" & 2"
2-1-2 % of span (Grade A) for 2-1/2", 4"
Fill Fluid
Fillable = Glycerin, Low Temperature Glycerin, Silicone
Available Options
Certificate of Accuracy, NIST traceable
Custom Dial
Custom Scale
Anti-Vibration Movement
Glass Lens
Removable Bezel
Higher Accuracy Class
Cleaned for Oxygen Service (dry only)
Special Connection Size
Protective Rubber Cover
Max./Min. Pointer