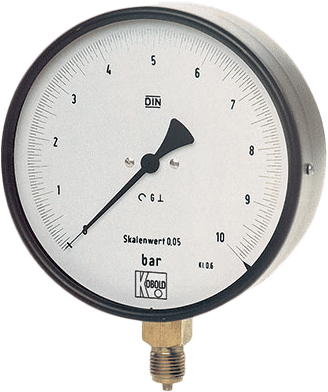 Images are representations only.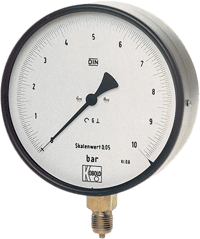 KOBOLD MAN-F bourdon tube test pressure gauges are manufactured to the very highest standards for use in testing pressures of tanks, pipes and fittings, as well as in laboratory applications.

These precision test pressure gauges have a high-grade measuring element.

The pressure-proportional elastic deformation of the bourdon tube is transmitted through a low-friction movement to the knife-edge pointer.

The gauges can be used with non-aggressive gases and liquids, but are not designed for use with highly viscous or crystallizing media.

The measuring accuracy can be certified in accordance with DIN 55 350 part 18 at an additional cost.
Features
High Reliability and Durability of a Modular System
Over-Range Capability Up to 1.3 Times
Instrument Glass Window
Specifications
Measuring Range
0 to 0.6 bar
0 to 1600 bar
Housing Material
Steel
Stainless Steel
Aluminum