Images are representations only.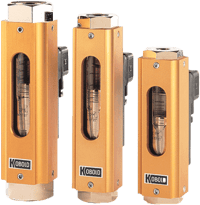 Cost-conscious, large volume applications require special products.

The KOBOLD BVO line of OEM flow meters is aimed at customers demanding lower cost without sacrificing the robustness and reliability associated with a top-tier variable area flowmeter.

This metal rotameter offers all the design ruggedness and quality of the KOBOLD SV line of flow meters, only at a lower price.

Made in a streamlined mass production process, the BVO OEM flow meter offers exceptional value for applications involving water-like liquids.

Repeatability of the BVO OEM flow meter is nonetheless held to ± 2%.

The flow switch supplied with each flow meter is adjustable over the meter's entire range.
Features
Lower Cost, Rugged Design
Repeatability ± 2% of Full Scale
Brass or Stainless Steel Wetted Parts
Adjustable SPST Switch Standard
Made in the USA
Quick Delivery
Certifications/Approvals: cCSAus