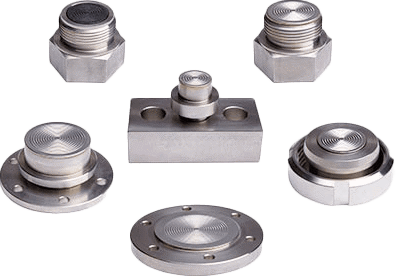 Images are representations only.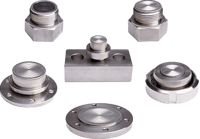 Designed for use with any KOBOLD pressure gauge, the DRM diaphragm seal makes it easier to measure the pressure of uncooperative media.

Whether the problem is high viscosity, incompatibility with metals, crystal formation, high temperature or some other trait, you can protect the more delicate elements of your system from harsh media properties or process characteristics by separating the pressure gauge from the media via the DRM Series diaphragm seal.

Available with plastic or stainless steel wetted parts and a variety of process connections, this diaphragm seal may be coupled directly to any KOBOLD pressure gauge, or remotely connected via a filled capillary tube.

A capillary tube allows installation of the indicator at a remote location.

It can also be a mechanism for isolating the gauge from possible hot processes.

ANSI flange, Sanitary Clamp and NPT fittings are standard. A variety of European (metric) fitting styles are also available on request.
Features
Plastic or Stainless Steel Wetted Parts
Protects From Highly Viscous and Crystallizing Media
Provides Pulsation Damping and Temperature Isolation
Specifications
Fittings
NPT Thread
Flange
Sanitary Clamp
Filling Liquid
Silicone Oil
Silicone-Free Oil
Media with suspended solids
Crystallizing, polymerizing, corrosive, toxic, or hazardous media
High Viscosity Media
Very high or very low media temperatures
Hygienic requirements for food and beverage industry
Batch changing without product residue remaining in the system