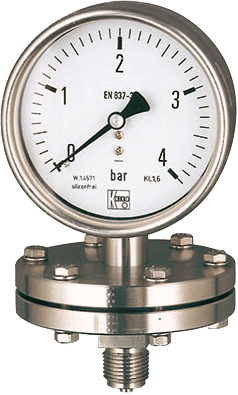 Images are representations only.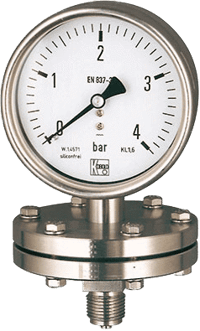 The KOBOLD DPF76 diaphragm pressure gauge features stainless steel construction for superior chemical and corrosion resistance for your intermediate pressure measurement applications.

Because of the protective diaphragm seal design, these pressure gauges are ideal for use with viscous as well as corrosive fluids.

Optionally, these diaphragm pressure gauges may be ordered with glycerine filling to help dampen the effects of machine vibration and pulsation of the media.

KOBOLD diaphragm pressure gauges are used for media where Bourdon tube pressure gauges or pneumatic capsule gauges are challenged.

An internal diaphragm is subjected to pressure from one side.

The pressure bends the diaphragm and the pressure indicator mechanism converts the resulting displacement into a corresponding movement of the pointer.

Due to the shape of the diaphragm and that it is securely clamped about its perimeter, a very stable mechanical system is produced that is much less susceptible to vibration than standard Bourdon tube gauges.
Features
Stainless Steel Wetted Parts for Corrosion Resistance
Suitable for Viscous Media
Tolerates Crystal Formation
Durable Diaphragm Element