Images are representations only.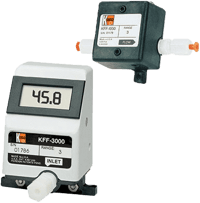 KOBOLD KFF/KFG flow meters can measure very low flow rates. They are suitable for a wide variety of industrial, commercial and laboratory flow applications involving media transparent to the near-infrared spectrum.

The flow sensor uses a pelton-type turbine wheel and photodiodes to generate an electrical signal linearly proportional to flow rate.

This output signal (accessible via the included cable) can be either a pulse or 0–5 VDC analog output usable with a variety of data acquisition equipment.

These sensors are available in PPS or brass construction for applicability to a wide variety of process situations.
Features
Series 1000 Flow Sensors - 0–5 VDC Output - Highly Repeatable - 12.5 VDC Input Power
Series 3000 Flowmeters - All Features of the 1000 Series Plus Local LCD Display
Quick Delivery
Specifications
Measuring Range
13-100 mL/min to 1-10 l/min
20-100 mL/min to 100-500 l/min
Fittings
1/8" to 1/2" Tube Fittings
Media Categories
KFF for Liquid
KFG for Gas