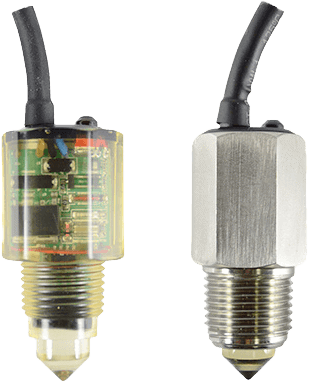 Images are representations only.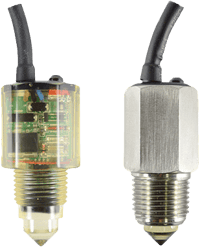 The NSD optical level switch is a low cost solid-state level sensor suited for clear, translucent, and non-coating low viscosity liquids.

This level switch functions by detecting the difference in refraction between the liquid and air.

An infrared LED inside the lens transmits a beam of invisible light.

In air, the beam is reflected back into the sensing circuit to an infrared detector. In liquid, the beam is refracted away from the detector and results in switch activation or de-activation depending on the switch logic as ordered.

The NSD is available in polysulfone, or 316 stainless steel with a polysulfone lens.

The switch output is a PNP open collector with normally closed (activated) dry or normally open (deactivated) dry logic, depending on the model code.

A red LED status indicator is lit when the switch is activated.
Features
PNP Open Collector Output Standard
Polysulfone or Stainless Steel Body
OEM Targeted Product
Low Cost and Reliable Optical Sensing Technology
LED Status Indicator
Overcurrent and Reverse Polarity Protected
Specifications
Suitable Media
Compatible Low-Viscosity, Clear and Non-Coating Liquids
Body Material
316 Stainless Steel
Polysufone
Maximum Pressure
Polysulfone: 140 psig
Stainless Steel: 550 psig