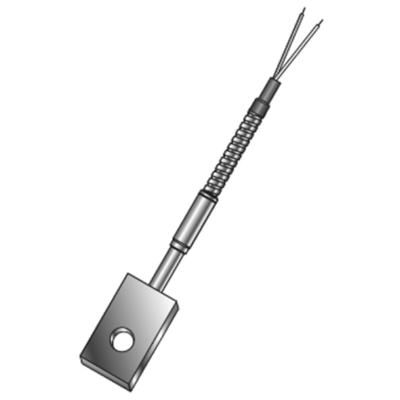 Images are representations only.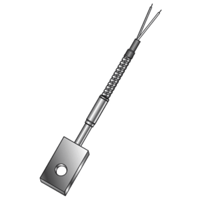 Specifications
Strap-on thermocouple for mounting on pipes
Pad with hole available for mounting on plates
Excellent thermal conductivity and rapid response time
Metal body is moisture resistant
Teflon insulation cable standard
Type J, K, T, E standard, others available
Factory calibration certificate optional
Temperatures to 200°C (400°F) for low Temperature Models and 400°C (752°F) for medium temperature models.
Specifications
Approvals & Certifications
Cable Length
Extension: 1 to 99" (25.4 to 2,515 mm)
Junction
Single, Dual Grounded
Single, Dual Ungrounded
Materials of Construction
Lead Wire Insulation: Glass
Lead Wire Insulation: Teflon
Mounting Pad Material, Lead Wire Insulation (Overall Jacket): Aluminum
Mounting Pad Material: 316 Stainless Steel
Mounting Pad Material: Brass
Sensor, Probe Type
E Thermocouple - Chromel-Constantan
J Thermocouple - Iron-Constantan
K Thermocouple - Chromel-Alumel
T Thermocouple - Copper-Constantan
Temperature Range
Lead Wire Insulation: 200° to 482° C (392° to 900° F)
Low Temperature: 200° C (392° F) - Max.