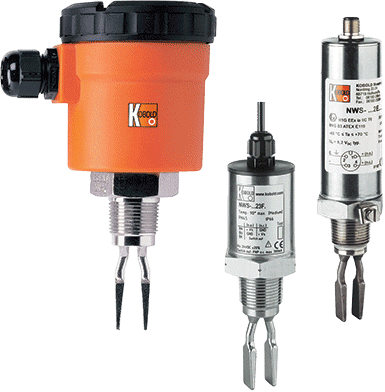 Images are representations only.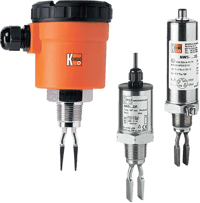 The KOBOLD NWS Vibrating Fork Level Switch is compatible with non-coating and some coating media with viscosities up to 5,000 cSt.

Sample application media includes oils and foamed oils, water, paints, transparent inks, sauces, milk, and liquids with carbon dioxide.

It also suitable for sterile or hygienic applications and CIP cycles up to 300 °F. The NWS can be set as an upper or lower limiter with the integral mode selector. It also features an LED output state status indicator.

The NWS Vibrating Fork Level Switch works on the vibrating fork principle.

A piezoelectric crystal is matched to the frequency of the tuning fork in air and is used to set the fork vibrating. When the fork is immersed in liquid, its resonant frequency changes.

The piezoelectric crystal is then no longer matched to the tuning fork, which causes the vibration to stop.

The NWS's internal electronics detect this change and signal an alarm condition.

The switching logic is easily toggled between N/O and N/C through an internal switch. The NWS is available with a solid-state switch that may be used in a 2-wire or 3-wire mode.

The 2-wire configuration can switch loads up to 240 VAC at 0.5 amps, while the 3-wire system switches a DC voltage when activated.
Features
Compact Size
No Wear Components
Works with Many Liquids
User Selectable Switch Logic
Sterile or Hygienic Applications
CIP Cyles to 300 °F
Specifications
Fittings
3/4" NPT
1" NPT
1-1/2" Tri-Clamp
2" Tri-Clamp
1" ANSI Flange
2" ANSI Flange