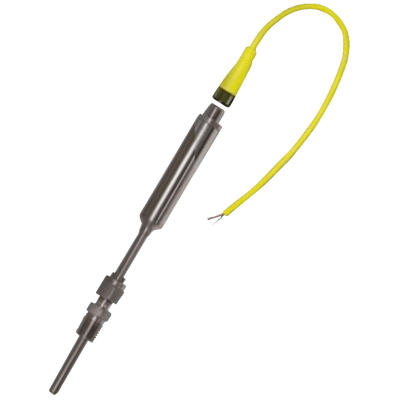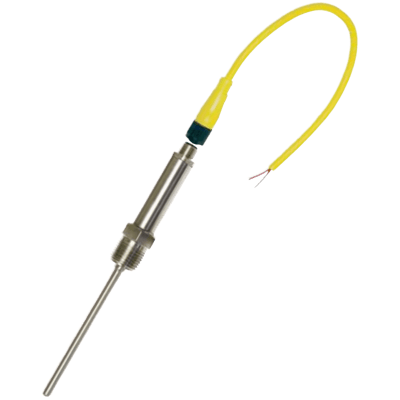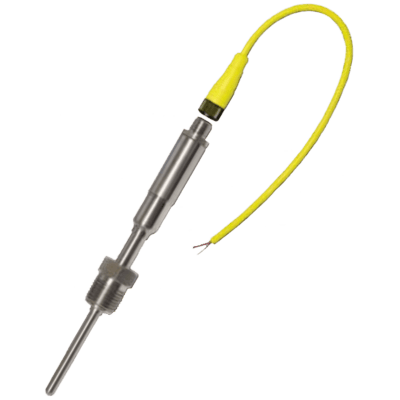 Images are representations only.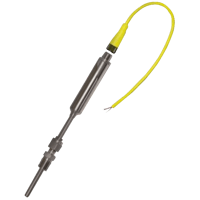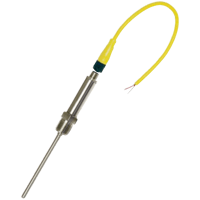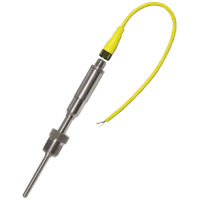 The key feature that make these sensors innovative is that they are the world's first ever temperature sensors that have a built-in and fully programmable microprocessor-based transmitter.

Intempco's patented MIST Temperature Sensors are designed for optimum accuracy, performance, and for ease of installation.

The sensors are factory configured and calibrated, all that is needed is a simple power connection and you are ready to go.

Models can be ordered with 2-wire 4-20 mA output or 3-wire voltage output (0-5, 1-5 or 0/10 Vdc). Calibration and re-scaling can be easily done with the optional Programming Kit.
Features
M12 connector ideal for quick disconnect applications and hermetically sealed
M12 extension cable available
Adjustable fittings available
Many fitting sizes and probe diameters available
Specifications
Accuracy
± (0.10° C (0.18° F) + 0.10 % of Calibrated Span) Two Point Calibration
± (0.25° C (0.45° F) + 0.40 % of Span) One-Point Calibration
Ambient Pressure
Vacuum to psi: 87.02 (kPa: 600, bar: 6)
Ambient Temperature Range
-40° to 80° C (-40° to 176° F)
Approvals & Certifications
Approvals & Certifications
CSA C/us: CAN/CSA C22.2 No. 61010-1: 12/UL 61010-1 (3rd Edition)
UL
Cable Length
16.40 feet (5 metres)
6.56 feet (2 metres)
Cable Material
PVC, 22 AWG, Euro DC Color Code (IP68 Rated)
Current
Maximum
Sensor: < 0.25 mA
Electrical Connectors
M12 Female/Male Micro Connector
Enclosure, Body Material
316 Stainless Steel
316L Stainless Steel
Environmental Protection
IP66
IP67
IP68
NEMA 4X
NEMA 6P
Humidity
Ambient Humidity: 0 to 100 %
Input Impedance
1,000 ohms Min. (Measuring Device, Voltage Output)
Isolation
Sensor Housing to All Output Pins: 500 Vdc
NPT Connection
1" NPT Male
1/2" NPT Male
1/4" NPT Male
1/8" NPT Male
3/4" NPT Male
3/8" NPT Male
Output
0-10 Vdc Linear to Temperature, 3-Wire
0-5 Vdc Linear to Temperature, 3-Wire
1-5 Vdc Linear to Temperature, 3-Wire
4-20 mA Linear to Temperature
Power Supply
4-20 mA Output: 9-30 Vdc, Polarity Protected
Voltage Output: 12-32 Vdc, Polarity Protected
Process Fitting Details
Fixed Process Ftting With/without Lag
Straight & Bent 90°: Compression Fitting
RTD Type
Pt100 DIN / EN 60751, Class A
Sensor Circuit
2.5 mA Downscale for 4-20 mA Output
24 mA Upscale for 4-20 mA Output
Sensor, Probe Diameter
1/8 to 1/2" (3.17 to 12.7 mm)
Sensor, Probe Material
316 Stainless Steel
316L Stainless Steel
Stability
Long Term Drift: ≤ 0.1 % of Full Scale Per Year
Storage Temperature
-50° to 85° C (-58° to 185° F)
Temperature Effect
± 0.001 % of Span/°C Deviation from 25° C (77° F)
Temperature Range
Field Re-Scalable between -200° to 600° C (-328° to 1,112° F)
Wetted Materials
316 Stainless Steel, Dual Certified
316L Stainless Steel, Dual Certified