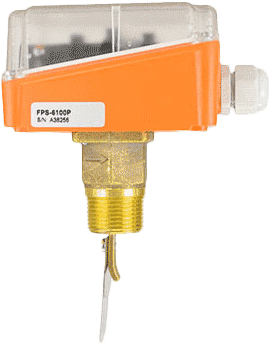 Images are representations only.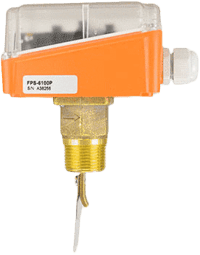 KOBOLD FPS paddle-bellows flow switches are used wherever reliable control for minimum or maximum liquid flow is required. This liquid flow switch operates on the paddle-bellows principle.

The flowing media exerts a force on the paddle and thereby actuates a micro switch.

The interchangeable paddles, in conjunction with an external adjustment screw, allow for adjustment over a wide range of switching points and easy adaptation of the flow switch to different pipe sizes.

The internals of the instrument are separated from the process by the bellows, making the insertion paddle-bellows flow switch an excellent choice for dirty media.

The FPS-6 Series is a special design variation used when lower switching points are desirable.
Features
Externally Adjustable Switch Point
Position-Independent Installation
High Capacity SPDT Mechanical Switch
Brass and SS Construction
For Pipes 1" to 8" in Diameter
Suitable For Water and Compatible Low-Viscosity Liquids
Quick Delivery
Specifications
Switching Range
0.9-4.4 GPM to 375-760 GPM
Maximum Pressure
Brass: 160 psig
Stainless Steel: 450 psig
Monitoring Cooling or Lubricant Circuits
Dry Run Protection for Pumps
Prevention of Low Water Levels