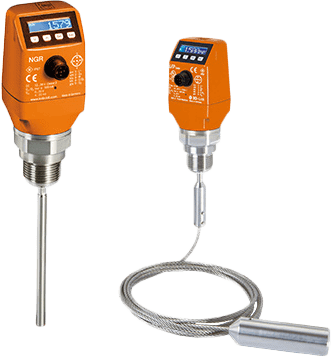 Images are representations only.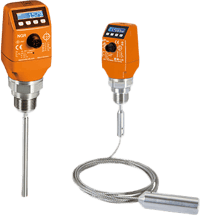 The NGR employs TDR technology (time-domain reflectometry) and can be used in water-based liquids and oil without any calibration.

The guided radar uses time-of-flight technology to measure electromagnetic pulses.

The time difference between the sent pulse and the reflected pulse is used to calculate the level, both as a continuous value (analog output) and a freely position able switching point (switching output).

Because the sensing probe of the NGR can be changed out or easily trimmed to length in the field, it is possible to integrate the sensor quickly into almost any application.

The NGR also works well with deposit-forming and foaming liquids.

The sensor's intuitive setup uses four buttons and a display to ensure quick and easy commissioning.
Features
No Mechanical Moving Parts
Measurement is Independent of Density, Temperature, Pressure and Humidity and Conductivity
Compact and Rotatable Housing Ensures Flexible Installation
Small Inactive Areas, Ideal for Small Vessels
Time and Cost Savings Due to Low Maintenance and Quick Commissioning
Specifications
Wetted Parts
316L Stainless Steel
PTFE
Output Measurement
4-20 mA Continuous
Transistor Switch