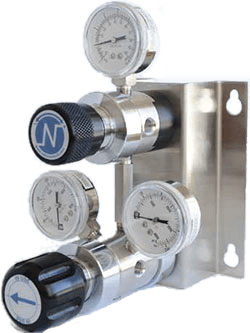 Images are representations only.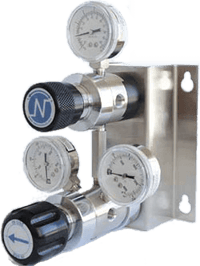 The Series 44 semi-automatic changeover provides an uninterrupted supply of gas to your instrumentation or process.

Incorporating two Neon Series 10 regulators into one body minimizes space requirements while providing the high purity construction of the Series 10.

The outlet of this assembly feeds another Series 10 regulator to provide final regulation for your application.

When the primary source bottle reaches the preset crossover point the secondary bottle automatically takes over.

Turning the indicator knob so that the arrow points to the now-active source bottle allows replacing the original primary cylinder, which will then take over automatically when the secondary bottle is depleted.

A wide variety of options such as pigtails, CGAs, check valves, pressure switches, and outlet valves allow you to customize this item to your specific requirements.
Features
Compact, economical design with mounting bracket
Wide variety of construction materials, Cv values, outlet ranges, and other options
2 year factory warranty
Specifications
Maximum Outlet Pressure
10, 25, 50, 100, 250, 500 psig
70, 175, 345, 690, 1725, 3450 kPa
.7, 2, 4, 7, 20, 35 bar
Leakage
Internal: Bubble tight
External: Designed to meet < 2 x 10-8 atm/cc He
Operating Temperature
-40° F to 185° F / -40° C to 85° C
Flow Capacity
0.03, 0.07, 0.24, 0.30, 0.35, 0.58
Body
Brass, 316L Stainless Steel, Monel, Electroless Nickel-Plated Brass
Seat
Tefzel, Peek, PCTFE [standard], Vespel
Filter
10 micron 316L Stainless Steel
Diaphragm
316L Stainless Steel with Tefzel Sealing Ring
Spring Housing
316L Stainless Steel, Electroless Nickel-Plated Aluminum, Black Anodized Aluminum
Wherever a Continuous Supply of Cylinder Gas is Required