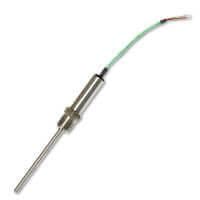 Images are representations only.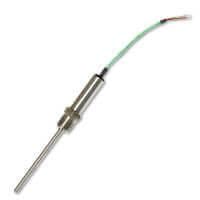 MIST M24 RTD Pt 100 temperature sensor a complete RTD temperature sensor probe, signal conditioner and 4-20 mA output.

Intempco MIST patented RTD (Pt100) sensor probes contain miniature programmable temperature transmitters in the TJ transition junction or in the 2-Wire 4-20 mA dc output lead wire.

Mist Microprocessor Integrated Sensor Transmitters can be fitted with M12 quick disconnect automation connectors, 3-A sanitary and NPT threads.

Process connections can be fixed welded or adjustable compression.

Via experience with 10,000+ OEM and process RTD applications installed, the adverse effects of electrical noise can be reduced and lead wire lengths extended with Intempco MIST RTD technology.
Features
Small compact size (connection head not required)
Built-in 4-20 mA, 2-wire temperature transmitter
Hermetically sealed transmitter
Factory calibrated 4-20 mA output
Output: 4-20 mA, 0-5, 1-5, 0-10 Vdc
Operating temperature range -50° to 200° C fixed or field programmable
Accuracy ±(0.10° C + 0.10% of calibrated span) with 2 point calibration
MIST PKIT programming kit to re-program and re-calibrate
316 Stainless Steel probe and process fittings
Cable PVC, Teflon, Teflon with SS Armor
M12 connection or leadwire length as required
Probe lengths, diameters and process connection options as required
Requires 2-wire loop power, 10-32 Vdc
Specifications
Accuracy
± (0.10° C (0.18° F) + 0.10 % of Calibrated Span) with Two-Point Calibration
Cable Material
PVC Insulation 90° C (195° F) - Max.
Teflon Insulation 200° C (392° F), with Stainless Steel Armour & Polyolefin Shrink 90° C (195° F), Teflon Shrink 200° C (392° F) - Max.
Electrical Connectors
22 AWG, 12" Long Extension Wires & Less are Single Stranded Leads
M12 Connector
Environmental Protection
IP67 Hermetically Sealed
NEMA 6P Hermetically Sealed
Instrument Connection
1/2" NPS Male
1/2" NPT Male
NPT Connection
1" NPT Male
1/2" NPT Male
1/4" NPT Male
1/8" NPT Male
3/4" NPT Male
3/8" NPT Male
Operating Temperature
-50° to 200° C (-58° to 392° F)
Output
0-10 Vdc Linear to Temperature
0-5 Vdc Linear to Temperature
1-5 Vdc Linear to Temperature
4-20 mA Loop Powered, Linear to Temperature
Power Supply
10-32 Vdc, 2-Wire Loop Power
Process Connection Material
Sensor, Probe Diameter
1/8 to 1/2" (3.17 to 12.7 mm)
Sensor, Probe Material
316 Stainless Steel
316L Stainless Steel
Temperature Range
Sensor: -50° to 200° C (-58° to 392° F)
Fluid Temperature
Air Temperature
Process Heat Exchanger
Sanitary 3A
Programmable Transmitter