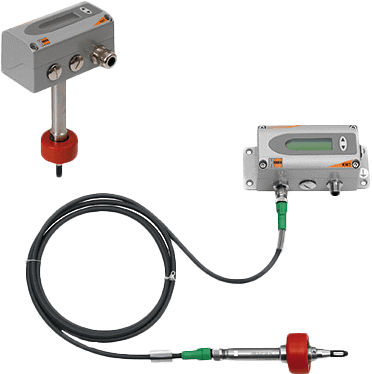 Images are representations only.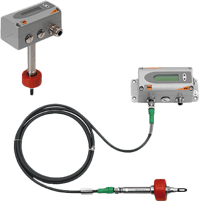 The KMT flow meter offers thermal mass flow technology and is ideally suited for the the measurement of flow of compressed air and gases in pipes from DN 15 to DN 700.

Compressed air, nitrogen, CO2 or other non-corrosive gases are suitable media for the KMT. It offers an application-specific adjustment that is setting new standards in terms of measurement accuracy and reproducibility.

This flow meter is adjusted under a pressure of 7 BarA (DN 15 to DN 50) or 9 BarA (DN 65 to DN 700). Adjusting the device specifically for its application keeps the actual flow speed in the pipeline low, even with very large flow quantities.

With a more stable flow profile, this low flow speed offers an improved degree of reproducibility and accuracy, as flow speeds up to 200 Nm/s can often no longer be controlled under conventional adjustment pressures.

The core design of the KMT is a hot film sensor element, which is produced using the most modern technology and has already proven itself time and time again in the automotive industry.

This flow sensor delivers excellent long-term stability, fast response time, and a high degree of reliability. For further processing of measurement data, two outputs are available.

Depending on the application, these outputs can be configured as analog (current or voltage), switch output, or as pulse output for the consumption measurement.

The KMT has an integrated counter for consumption. The consumed amount is shown on the display and the saved value is retained, even after a power outage.

The availability of the consumption amount as a free configurable pulse output is another helpful feature.
Features
Optional Display
Hot Film Sensor Element
For Air & Other Non-Corrosive Gases
Compact and Remote Mount Probes
Specifications
Measuring Range
0.32-63 Nm³/h to 263.4-263350 Nm³/h
Accuracy
± 1.5 % of Reading +0.5 to +0.8 % of Full Scale
Maximum Operating Temperature
Process Connection
G 1/2 to G 2
1/2" to 2" NPT with ball valve
R 1/2 Threaded Version for DN 65 to 700
Wetted Materials
Stainless Steel
Glass
Brass
Outputs
Analog Output
Switch Outputs
Pulse Outputs