Images are representations only.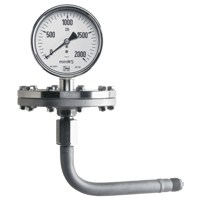 Due to their design and the materials used, KOBOLD level meters of model NPF with diaphragm satisfy the tough service demands in the chemical and petrochemical industry. They are used for level measuring of low-viscosity, nonsticking media in open, unpressurized vessels.

The specific weight of the medium should be taken into account. The fixed annular diaphragm is quite insensitive to vibrations. Diaphragm pressure gauges have a relatively high actuating force. Their stainless steel construction render the instruments resistant to aggressive environmental conditions.
Specifications
Ambient Temperature Range
Applications
Chemical Industry
Equipment Manufacturing
Petrochemical Plants
Plant Engineering
Electrical Contacts
Creep Contact
Inductive Contact
Magnetic Snap Contact
Normally Closed & Normally Open
Electrical Rating
250 Vac/dc / 0.6 A / 10 W / 18 VA - Creep Contact
250 Vac/dc / 0.6 A / 30 W / 50 VA - Magnetic Snap Contact
Nominal 8 Vdc - Inductive Contact
Element
316Ti Stainless Steel - Measuring Element
Duratherm 600 - Measuring Element
Enclosure / Body Material
Flange Size - 2" (DN 50)
2" (DN 50) - 150# (ANSI B16.5)
2" (DN 50) - 300# (ANSI B16.5)
2" (DN 50) - 600# (ANSI B16.5)
2" (DN 50) - PN 10
2" (DN 50) - PN 40
Flange Size - 2-1/2" (DN 65)
2-1/2" (DN 65) - 150# (ANSI B16.5)
2-1/2" (DN 65) - 300# (ANSI B16.5)
2-1/2" (DN 65) - 600# (ANSI B16.5)
2-1/2" (DN 65) - PN 10
2-1/2" (DN 65) - PN 40
Flange Size - 3" (DN 80)
3" (DN 80) - 150# (ANSI B16.5)
3" (DN 80) - 300# (ANSI B16.5)
3" (DN 80) - 600# (ANSI B16.5)
3" (DN 80) - PN 10
3" (DN 80) - PN 40
Flange Size - 4" (DN 100)
4" (DN 100) - 150# (ANSI B16.5)
4" (DN 100) - 300# (ANSI B16.5)
4" (DN 100) - 600# (ANSI B16.5)
4" (DN 100) - PN 10
4" (DN 100) - PN 16
4" (DN 100) - PN 25
4" (DN 100) - PN 40
Materials of Construction
316Ti Stainless Steel - Tube Bend
Aluminum White (Dial Face), Black (Pointer)
Stainless Steel - Measuring Mechanism
Overpressure & Static Pressure Limits
psi: 0 to 580 (kPa: 0 to 4,000, bar: 0 to 40) - Overpressure-Safe
Resistance
1 kiloohms - Input Resistance