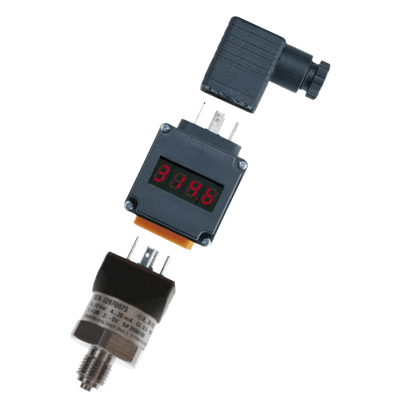 Images are representations only.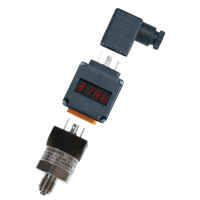 Robustness and long-term stability during operation are the strengths of this compact pressure sensor for general industrial applications. The technical specifications and attractive price level of these sensors make them ideal for OEM applications.

The materials and technologies used make these sensors suitable for applications with aggressive media. Welded connections between pressure cell and process connection require no sealing elements and make the measuring system particularly resistant to mechanical shock and vibration.

The compact design makes these sensors interesting for room critical applications.

A wide variety of electrical connections and pressure ports simplifies the adaptation to different applications. The pressure sensor is internationally certified and ready for global deployment.

The pressure sensors comply with electromagnetic compatibility requirements (EMC) as per EN 61326.
Specifications
Ambient Temperature Range
-30° to 100° C (-20° to 212° F)
Applications
Building Technology
Compressors
Engine Construction
Hydraulic Applications
Infusion Pumps
Plant Construction
Pneumatics
Process Engineering
Approvals & Certifications
BSP Connection
G 1/2" Male
G 1/4" Male
G 1/8" Male
Compensated Temperature
0° to 80° C (32° to 175° F)
Electrical Connectors
Cable Outlet 6.56 feet (2 metres)
DIN EN 175301-803 Form A & Form C
Junction Box (Old DIN 43650 A & Old DIN 43650 C)
M12 × 1 Plug 4-Pin
Electrical Protection
Overvoltage
Polarity
Short Circuit
Enclosure / Body Material
304 Stainless Steel, 1.4301
Polyamide (PA)
Environmental Protection
IP65 According to EN 60529
IP67 According to EN 60529
Load Resistance
> 10 kiloohms for 14-30 Vdc
> 4.5 kiloohms for 8-30 Vdc
> 5 kiloohms for 8-30 Vdc
NPT Connection
1/2" NPT Male
1/4" NPT Female
1/4" NPT Male
Output
0.5 - 4.5 Vdc (8 - 30 Vdc)
0-10 Vdc (14-30 Vdc)
0-5 Vdc (8-30 Vdc)
4-20 mA, 2-Wire
Power Requirement
0.5 - 4.5 Vratio
0-10 Vdc
2-5 Vdc
4-20 mA
Pressure Range
bar: 0 to 600
kPa: 0 to 60,000
psi: 0 to 8,700
Process Temperature
-30° to 100° C (-20° to 212° F)
Sensor / Probe Type
≤ 6 bar Piezoresistive
≥ 10 bar Thin Film
Stability
≤ ± 0.2 % of Span Per Year
Storage Temperature
-30° to 100° C (-22° to 212° F)
Vibration
10 G Vibration (ICE 68-2-6)
Wetted Materials
316L Stainless Steel
632 Stainless Steel (1.4534)