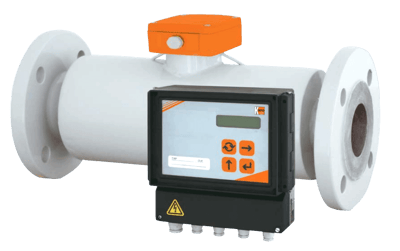 Images are representations only.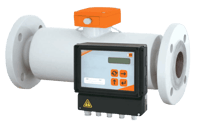 Ultrasonic flowmeters of the DUE-1 (single-beam) and DUE-2 (dual-beam) type series are intended for flow-rate measurements of conductive, non-conductive and aggressive liquids in a pipe completely filled with the flowing fluid.

Ultrasonic flowmeters operate on the principle of measuring the difference in transit times of ultrasonic waves travelling in and against the fluid flow direction. The meter consists of a flow sensor and associated electronic unit.

Ultrasonic flowmeters offer excellent user value in their high measurement accuracy over a wide range of measured values, long-term stability, negligible hydraulic losses and the capability of measuring the flow-rate of virtually any liquid medium.

The evaluation unit in separate plastic housing, supplies power to the ultrasonic probes and gives the flow rate in form of pulses (option 0/4-20 mA, RS485). Factory language setting English, switchable to German/French/Spanish. 3-point factory calibration is included as standard.
Specifications
Ambient Temperature Range
5° to 55° C (41° to 131° F)
Applications
Air Conditioning Systems
Chemical & Petrochemical
Cooling Water System
Heating Equipment
Power Plants
Waste Management
Approvals & Certifications
Cable Length
16.4 to 328.1 feet (5 to 100 metres)
Dimensions
9.1" × 8.5" × 3.35" {230 × 217 × 85 mm (L × H × W)}
Display
2 × 16-Digit Alphanumerics
LCD Display
Flange Size - 10" (DN 250)
10" (DN 250) - PN 16
10" (DN 250) - PN 40
Flange Size - 1-1/2" (DN 40)
1-1/2" (DN 40) - PN 16
1-1/2" (DN 40) - PN 40
Flange Size - 1-1/4" (DN 32)
1-1/4" (DN 32) - PN 16
1-1/4" (DN 32) - PN 40
Flange Size - 12" (DN 300)
12" (DN 300) - PN 16
12" (DN 300) - PN 40
Flange Size - 2" (DN 50)
2" (DN 50) - PN 16
2" (DN 50) - PN 40
Flange Size - 2-1/2" (DN 65)
2-1/2" (DN 65) - PN 16
2-1/2" (DN 65) - PN 40
Flange Size - 3" (DN 80)
3" (DN 80) - PN 16
3" (DN 80) - PN 40
Flange Size - 4" (DN 100)
4" (DN 100) - PN 16
4" (DN 100) - PN 40
Flange Size - 5" (DN 125)
5" (DN 125) - PN 16
5" (DN 125) - PN 40
Flange Size - 6" (DN 150)
6" (DN 150) - PN 16
6" (DN 150) - PN 40
Flange Size - 8" (DN 200)
8" (DN 200) - PN 16
8" (DN 200) - PN 40
Flow Rate
1.5-20 m³/hour to 127-2000 m³/hour to Water
Humidity
80 % Relative Humidity, Maximum
Maximum System Pressure
psi: 580.2 (kPa: 4,000, bar: 40)
Output
0-20 mA
4-20 mA
Galvanically Isolated
Power Requirement
100-250 V, 50/60 Hz
3 V Lithium Metal Battery (Lifetime for 5-Years)
6 VA
Process Temperature
-20° to 180° C (-4° to 356° F)
Storage Temperature
-10° to 70° C (14° to 158° F)
Temperature Range
150° C (302° F) - Maximum