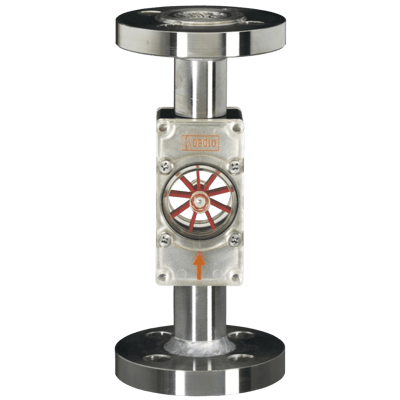 Images are representations only.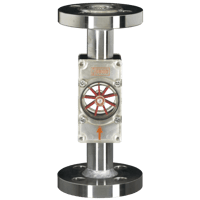 The KOBOLD Rotating Vane Flow Indicator is applied where visual flow indication without flow measurement is required. A square housing with transparent windows front and back, contains a rotating vane whose rotary motion, caused by the flowing medium, indicates presence of "flow".

Within the same housing dimensions, differing minimum and maximum flow ranges are obtained by changing the inlet port orifice.

The instruments can be installed in any position. Flow, however, must be in the direction indicated by the arrow.

Connection is made by means of stainless steel flanges in accordance with DIN/Form C in standard sizes DN 15, 25, 40 or 50.
Specifications
Enclosure, Body Material
304 Stainless Steel
316Ti Stainless Steel
Flange Size - 1" (DN 25)
1" (DN 25) - ANSI Class 150
1" (DN 25) - PN 16
Flange Size - 1/2" (DN 15)
1/2" (DN 15) - ANSI Class 150
1/2" (DN 15) - PN 16
Flange Size - 1-1/2" (DN 40)
1-1/2" (DN 40) - ANSI Class 150
1-1/2" (DN 40) - PN 16
Flange Size - 2" (DN 50)
2" (DN 50) - ANSI Class 150
2" (DN 50) - PN 16
Flow Rate
0.03-0.1 to 5-150 L/minute to Water
Materials of Construction
Operating Temperature
110° C (230° F) - Maximum