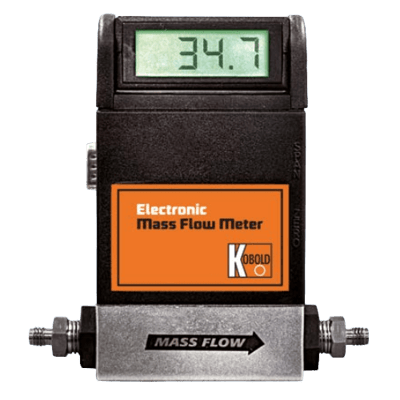 Images are representations only.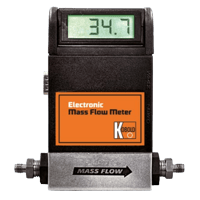 The KOBOLD MAS model mass flowmeter makes very precise measurements of the mass flow rate of gases in different measuring ranges from 0-10 Nml/min to 0-500 Nl/min nitrogen. The operation of the meter is based on the calorimetric principle. For indication of 98% of the actual flow, the response time is 2 s.

The meter may be installed in any position.

In contrast with most volumetric flowmeters, no temperature or pressure correction is required.

This means that the MAS model is ideally suited for almost every gas flow application. Typical industrial applications are process control, laboratory measuring tasks, OEM applications, gas indication panels, leakage and filter monitoring.

The MAS is available either with analogue output only, or in addition with digital indication. The 3½-digit LCD display is infinitely rotatable through 180°. Glass-fibre-reinforced Nylon® or stainless steel may be used in the manufacture of wetted parts. Seal materials is FPM (Kalrez or Neoprene upon request).

The MAS model may be operated with 12-15 VDC (24 VDC optional). MAS-5015 or MAS-5000 are recommended as power supplies.

Typically, a 0-5 VDC (or 4-20 mA optional) analogue signal is available as output signal. This allows recording, data storage, and control functions to be implemented.
Specifications
Accuracy
± 1 % of Full Scale - Option
± 1.5 % of Full Scale with Calibrated
Adjustment
9 Adjustments - Tilting Indicator
Ambient Temperature Range
Applications
Oil Free Gases
Suited Only for Dry
Operating Pressure
psi: 145 (kPa: 1,000, bar: 10) - Maximum
Output
0-5 Vdc - Linear (Load Minimum: 2,000 ohms)
4-20 mA - Option (Load, Maximum
Output Load
500 to 2,000 ohms - Load Resistance
Response Time
6 seconds Typical - within ± 2 % of Final Value over 25-100 % of Full Scale
800 milliseconds Time Constant
Supply Pressure Effect
0.3 % of Full Scale / bar
Supply Voltage
12-15 Vdc
24 Vdc - Optional
Wetted Materials
316L Stainless Steel
Glass-Fibre-Reinforced Nylon