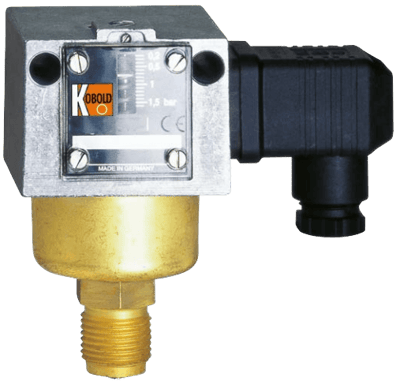 Images are representations only.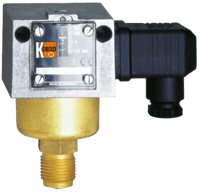 The pressure applied in the sensor housing acts on the measuring bellows. Pressure changes lead to movements of the measuring bellows which are transferred through a pressure pin to the switching rocker.

The switching rocker is supported on hardened pivot points. As the pressure increases the switching rocker moves upwards and operates the micro-switch. The spring, the initial stress of which can be changed by the setting screw, acts as opposing force.

The travelling nut is moved by turning the set point spindle, and the initial stress of the spring is changed. The screw serves for the internal adjustment of the micro switch. The counterpressure spring ensures stable switching behavior, even for low setting values.
Specifications
Ambient Temperature Range
-15° to 60° C (5° to 140° F)
Approvals & Certifications
ATEX - Ex II2 GD Ex de IIC T6
BSP Connection
G 1/2" Male A
G 1/4" Male
Electrical Rating
0.03 A at 250 Vdc Resistive (ATEX Version)
2 A at 250 Vac Inductive (ATEX Version)
3 A at 24 Vdc Resistive (ATEX Version)
3 A at 250 Vac Resistive (ATEX Version)
Element
304L Stainless Steel - Sensor Casing
316Ti Stainless Steel - Metal Bellows
430F Stainless Steel - Sensor Casing
Cu+Ms - Sensor Casing
Ms - Sensor Casing
NBR - Membrance
Environmental Protection
IP54, with Vertical Fitting Position
IP65
Mounting
Vertically Upwards & Horizontal DCM 4016 & 4025 Vertically Upwards
Process Fitting Details
Directly in the Pressure Line (Pressure Gauge Connection) or on a Flat Surface with 2 - Off 4 mm Screws
Set Point Range
kPa: 0.1 to 1.6
mbar: 1 to 16
psi: 0.015 to 0.232
Switch Type
Single-Pole Change-Over Switch