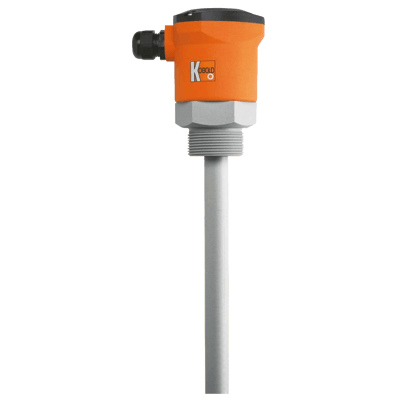 Images are representations only.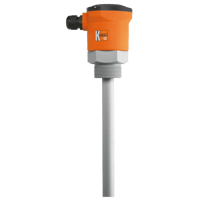 The KOBOLD NTS level limit switch for bulk goods operates on the capacitive measuring technique. The measuring pro be, tank or vessel wall form a capacitor.

The capacitance depends on the medium between probe and wall. If air is present (tank empty), the capacitance is low. As soon as product touches the probe, the capacitance increases.

This change in capacitance is detected electronically and converted to a switching signal when the capacitance rises above or drops below the limit. The instrument has a changeover feature for minimum/maximum safety.

The switch point is always accurately maintained by the "deposit compensation" even with deposit formation.

The effect of deposit compensation depends on the density of the coating on the probe, the conductance of the coating as well as the adjustable sensitivity. The NTS is adjusted at the factory; the sensitivity can be re-adjusted however.

For non-conductive vessels the earth connection must be attached to nearby conductive and earthed objects.
Specifications
Accuracy
Horizontal ± 0.118" (± 3 mm)
Ambient Temperature Range
-40° to 70° C (-40° to 158° F)
Applications
Level Monitoring in Powdery & Finegrained Bulk Materials
BSP Connection
G 1-1/2"
1" BSPT Male
1-1/2" BSPT Male
Delay Time
0.5 second - Switch Delay
Electrical Connectors
M20×1.5
Terminal Connection
Enclosure / Body Material
Operating Pressure
psi: -14.5 to 362.6 (kPa: -100 to 2,500, bar: -1 to 25)
Output
1 mA to 4 A, 6-253 V At, Maximum
200 mA - DC Version
Power Requirement
0-253 Vac - AC/DC Version
10.8-45 Vdc - DC Version
130 mA - AC/DC Version
20-55 Vdc - AC/DC Version
Maximum
Process Temperature
-40° to 120° C (-40° to 248° F)
Sensor / Probe Material
Polyphenylene Sulphide (PPS)