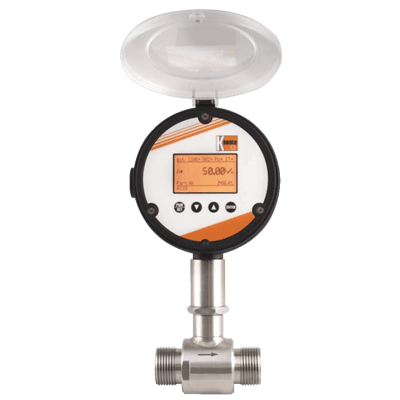 Images are representations only.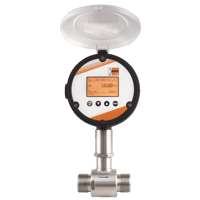 The KOBOLD turbine flow meter Model DOT consists of a helically shaped turbine rotor supported in two tungsten carbide bearings, the rotor being solid ferritic stainless steel of a grade compatible with the metered liquid, all contained within a housing of non-magnetic stainless steel.

A pick off coil having a permanent magnet core is mounted in the housing adjacent to the rotor blade tips such that a magnetic circuit is set up via the rotor blades.

Rotation of the rotor varies the reluctance of this magnetic circuit and the flux changes induce a small voltage in the coil, the frequency of which is directly proportional to the rotor speed and therefore proportional to the volumetric flow rate.

The effects of increasing viscosity reduce the linear flow range and shifts the k-factor. Further, the effect of viscosity depends on the frequency (RPM of rotors). Therefore, smaller the meter, higher is the effect of viscosity on the linearity curve.
Specifications
Ambient Temperature Range
Applications
Chemical & Allied Products
Deionized Water Flow
Fuel Additives
Hydraulic Applications
Other Low Viscous Fluids
Petrochemical Plants
Pharmaceuticals
Plastic Machinery
Water Treatment
Approvals & Certifications
Bearing Material
316 Stainless Steel - Bearing Support
316L Stainless Steel - Bearing Support
Tungsten Carbide (Shaft, Bush, Thrust Plate)
BSP Connection
G 1" Male
G 1/2" Male
G 1-1/2" Male
G 2" Male
G 3/4" Male
Filter
300 microns (0.3 mm or 60 Mesh) - Sizes up to DN 50
500 microns (0.5 mm or 100 Mesh) - Sizes from DN 80
Flange Material
316 Stainless Steel
316L Stainless Steel
Carbon Steel A106
Flange Size - 1/2" (DN 15)
Flange Size - 1-1/2" (DN 40)
Flange Size - 3/4" (DN 20)
Flange Size - 4" (DN 100)
Flange Size - 6" (DN 150)
Flow Capacity
0.064 to 323.71 scfm (0.11 to 550 m³/hour)
0.064 to 40.02 scfm (0.11 to 68 m³/hour)
Input Power
12-24 Vdc - Power Supply
8-24 Vdc - Power Supply
Materials of Construction
316 Stainless Steel (up to DOT-xx15) - Rotor Material
Stainless Steel ANC 21 - Rotor Material
Maximum System Pressure
psi: 3,626 (kPa: 25,000, bar: 250)
NPT Connection
1" NPT Male
1/2" NPT Male
1-1/2" NPT Male
2" NPT Male
3/4" NPT Male
Output
2-Wire Reluctance Typical Pick-Off Coil
40 mA Peak-to-Peak at Minimum Flow Rate
4-20 mA
Repeatability
± 0.02 to ± 0.05 % Under Steady Flow Conditions
Temperature Range
-20° to 120° C (-4° to 248° F)