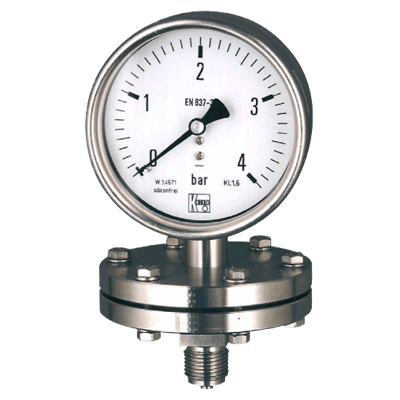 Images are representations only.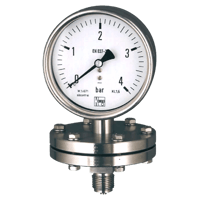 KOBOLD diaphragm pressure gauges are preferably used for media where Bourdon tube pressure gauges or pneumatic capsule gauges are challenged. Diaphragm pressure gauges have a relatively high actuating force.

The annular clamped diaphragm is insensitive to jarring or vibration. An extremely high resistance to overpressure is achieved by underpropping the diaphragm.

With highly viscous, crystallizing or strongly heterogeneous media, open process connections which ensure that the gauges are easy to clean, e.g. by flushing, are used.

In processes with chemically aggressive media, diaphragm pressure gauges have a special material coating on the components in contact with the medium which protect them from corrosion.
Specifications
Ambient Temperature Range
-20° to 80° C (-4° to 176° F)
Applications
Chemical & Petrochemical
Food & Beverage
Machine & Plant Construction
Paper-Manufacturing Industries
Plastic Machinery
BSP Connection
G 1/2" Male with 10 mm Boring
Element
316Ti Stainless Steel
Duratherm
Fill Material
Glycerin
Paraffin Oil - Special Flling with Higher Temperatures
Flange Material
Measuring Fange Hardrubber Coated DIN 2501, DN 25, DN 50
Measuring Flange PTFE-Beschichtet DIN 2501, DN 25, DN 50
Flange Size - 1" (DN 25)
1" (DN 25) - PN 10
1" (DN 25) - PN 16
1" (DN 25) - PN 25
1" (DN 25) -PN 40
Flange Size - 1/2" (DN 15)
1/2" (DN 15) - PN 10
1/2" (DN 15) - PN 16
1/2" (DN 15) - PN 25
1/2" (DN 15) - PN 40
Flange Size - 1-1/2" (DN 40)
1-1/2" (DN 40) - PN 10
1-1/2" (DN 40) - PN 16
1-1/2" (DN 40) - PN 25
1-1/2" (DN 40) - PN 40
Flange Size - 1-1/4" (DN 32)
1-1/4" (DN 32) - PN 10
1-1/4" (DN 32) - PN 16
1-1/4" (DN 32) - PN 25
1-1/4" (DN 32) - PN 40
Flange Size - 2" (DN 50)
2" (DN 50) - PN 10
2" (DN 50) - PN 16
2" (DN 50) - PN 25
2" (DN 50) - PN 40
Flange Size - 2-1/2" (DN 65)
2-1/2" (DN 65) - PN 10
2-1/2" (DN 65) - PN 16
2-1/2" (DN 65) - PN 25
2-1/2" (DN 65) - PN 40
Flange Size - 3" (DN 80)
3" (DN 80) - PN 10
3" (DN 80) - PN 16
3" (DN 80) - PN 25
3" (DN 80) - PN 40
Flange Size - 4" (DN 100)
4" (DN 100) - PN 10
4" (DN 100) - PN 16
4" (DN 100) - PN 25
4" (DN 100) - PN 40
Materials of Construction
Aluminum, Black Anodized - Pointer
Movement
304 Stainless Steel - All Stainless Steel Version
Brass - Standard Version
Pressure Range
bar: -1 to 40
kPa: -100 to 4,000
psi: -14.5 to 580
Spring Material
PTFE-Coating - Measuring Spring