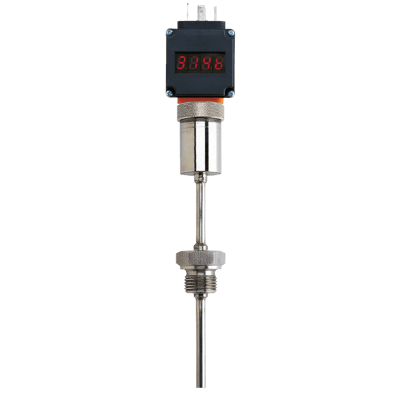 Images are representations only.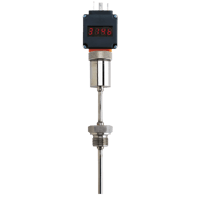 The screw-in temperature sensors with integrated transmitter are used with the plug-on display model AUF as economical digital thermometers with Analog output (4 to 20 mA). The plug-on display is available with limit contact as an option.

The model TMA temperature sensors comprise a rugged sensor made of stainless steel with fixed G 1/2" or 1/2" NPT external thread. The bulbs have been designed for pressures up to 36 bar, depending on the process conditions.

A connector according to DIN 43 650 allows the transmitter to be easily connected electrically or retrofitted with the plug on display.

The temperature sensor is equipped with a stand-off for process temperatures >150° C.

A Pt 100 temperature sensor according to IEC 751, category B is fitted in the measuring insert as standard.
Specifications
Accuracy
< 0.5 % of Measuring Span
Ambient Temperature Range
-40° to 85° C (-40° to 185° F)
Display
-1999 to 9999
4-Digit Red LED
Enclosure / Body Material
Maximum System Pressure
psi: 522.1 (kPa: 3,600, bar: 36)
Programming
2 Buttons
Decimal Point
Menu-Assisted
Scaling of Indication
Sensor / Probe Connection
Temperature Range
-200° to 600° C (-325° to 1,100° F) - for TMA-H
-50° to 200° C (-58° to 392° F) - for TMA-0 / TMA-V
Heating installation, furnace and apparatus construction
Machine construction and building installations
Marine engineering
General industrial