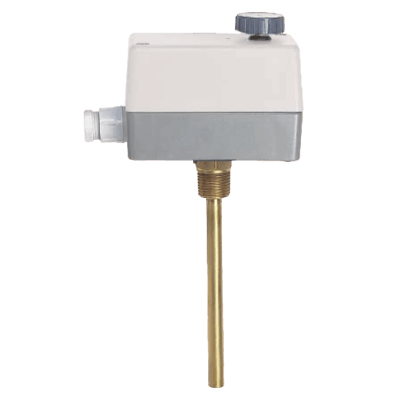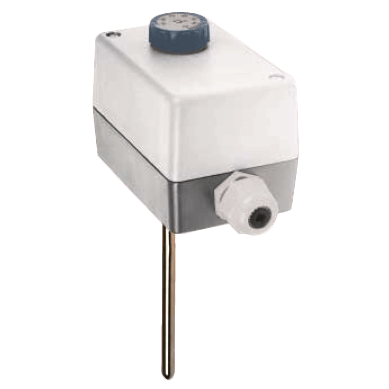 Images are representations only.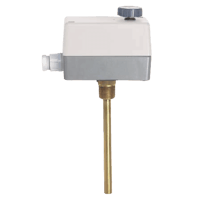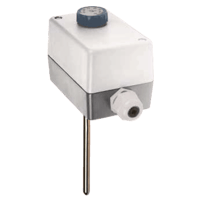 The rod thermostats are fitted with liquid-filled probes made of copper that act as temperature-dependent pressure probes. A change in temperature causes a pressure change in the probe, which is transferred to a switch by a bellows system.

A compression spring acts as a counteracting force.

The switching values are set by changing the initial stress of the compression spring with a setpoint spindle. A thermowell with R 1/2" external thread made of brass or stainless steel (optional) is part of the scope of delivery.

The rod thermostats are available with adjustable switching difference or temperature switch, temperature controllers and safety temperature limiters according to DIN 3440.
Specifications
Ambient Temperature Range
Applications
Heating, Ventilation, Air Conditioning Technology
Mechanical Engineering, Vessel & Equipment Manufacturing
Monitoring & Control of Temperatures of Liquids & Gases
Enclosure / Body Material
Copper (Liquid-Filled)
Thermowell - 304L Stainless Steel
Thermowell - Brass
Hysteresis
Adjustable from Inside
Fixed
Materials of Construction
Supply Voltage
15 A at 250 Vac
24 - 250 Vac
8 A at 250 Vac Inductive
Switch Type
Single-Pole, Floating Changeover Contact, Dust Proof
Temperature Range
-30° to 120° C (-22° to 248° F)
Thermowell
304 Stainless Steel
Brass