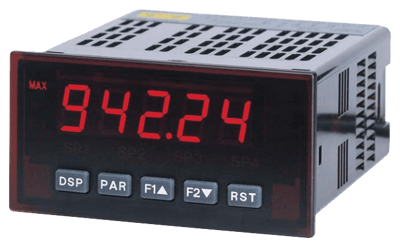 Images are representations only.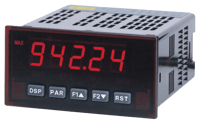 The industrial indicator DAG-AXV can be used as a very flexible and accurate laboratory device. However, it was designed with rugged plastic housing and high protection IP 65 for rough industrial applications.

The globally used, proven electronics designed for durability undergoes a 3-day quality test under full load after assembly.

The device is programmed quickly and securely from a PC or with the 5 keys. The operator can record and easily alter all parameters at once with the convenient user interface. Devices may also be upgraded with the pluggable options.
Features
Frequency measuring 34 kHz
2 independent counters, 1 sum/difference/remote indication, 1 tachometer
User scaling
Minimum/maximum memory
Scalable pulse output
Protection IP 65
Simple button programming
Specifications
Accuracy
± 0.03 % + 2 μA, ± 0.03 % + 2 mV (At 18° to 28° C, 64.4° to 82.4° F)
± 0.12 % + 3 μA, ± 0.12 % + 3 mV (At 0° to 50° C, 32° to 122° F)
Typically 0.01 % (Time Base)
Communication
DeviceNet Bus
PROFIBUS DP
RS-232
RS-485
Dimensions
3.62" × 1.77" (92 × 45 mm) - Cut-Out Dimensions
Display
5-Digit, 14 mm High Red LED Display, Backlite Unit
Electrical Contacts
Changeover Contact
Normally Closed
Normally Open
Frequency
20 Measurements/seconds - 16-bit A/D Converter
Input Impedance
20 ohms (20 mA Input)
500 kiloohms (10 V Input)
Mounting
Mounting Frame with Retaining Screws
Operating Temperature
0° to 45° C (32° to 113° F) with All Options
0° to 50° C (32° to 122° F)
Output
0-10 Vdc - Analog Output
0-20 mA - Analog Output
4-20 mA - Analog Output
Power Supply
11-36 Vdc, 11 W
24 Vac (± 10 %), 15 VA
85-250 Vac, 15 VA
Relay Output
3 A at 250 Vac or 30 Vdc - Resistive Load
5 A at 120/230 Vac or 28 Vdc - Resistive Load
80 VA at 120 Vdc (Inductive Load)
Response Time
200 milliseconds (99 % of Final Value)
Storage Temperature
-40° to 60° C (-40° to 140° F)
Switch Type
NPN-OC-transistor
PNP-OC-transistor