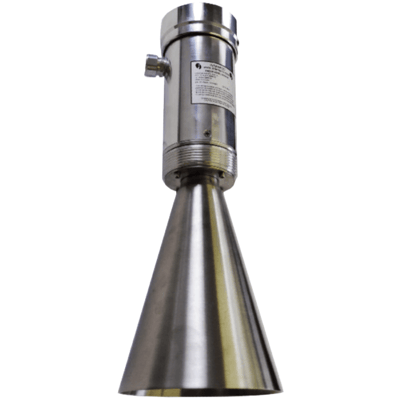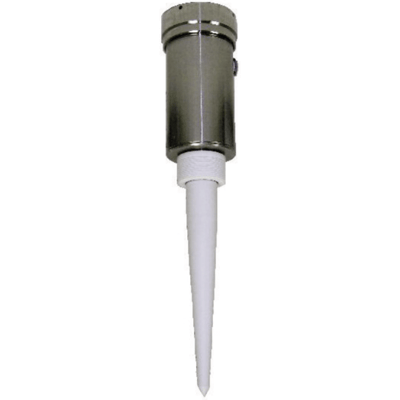 Images are representations only.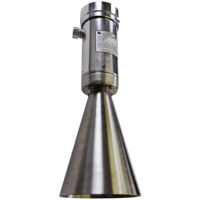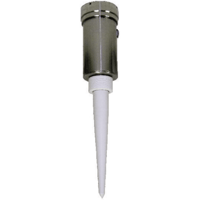 The LTR51 Series radar level sensors are designed for applications requiring non-contact level measurement, in which ultrasonic level measurement is not acceptable.

The LTR51 Series radar technology can be adjusted for variables such as materials to be measured, vessel configuration, and system interface.

These sensors are ideal when vapor, dust, or a foaming surface prevents ultrasonic-wave measurements.

The LTR51 Series radar sensors can detect the level under a layer of light dust or airy foam, but if the dust particle size increases, or if the foam or dust gets thick, they will no longer detect the liquid level.

Instead, the level of the dust or foam will be measured. Internal piping, deposits on the antenna, multiple reflections, or reflections from the wall can interfere with the proper operation of the radar sensor.

Other sources of interference are rat-holing and bridging of solids, as well as angled process material surfaces that can reflect the radar beam away from the receiver.
Features
Self adjusting tracking radar ideal for liquids
Programmable (recommended) and simple push-button calibration
Output 4-20 mA/20-4 mA (Isolated on 4-Wire model's only )
Optional RS232, RS485 for communications with calibration, diagnostics and data logging software
Optional HART on 2-wire models
PLC compatible (Modbus RTU)
2-wire DC loop-powered, 3-wire DC, or 4-wire isolated AC operation
Specifications
Accuracy
± 0.1 % of, Maximum
± 0.25 % of, Maximum
Loop Powered Display: ± 0.5 % of Reading
Approvals & Certifications
FCC Part 15 - Low Power Communication Device
Calibration
Manual or Via Communications Port
Class
Installation Category: Class II
Communication
HART (2-Wire Only)
Modbus RTU
RS-232
RS-485
Conduit Connection
Conduit Entry: 1/2" NPT × 2
Cover Material
Threaded Wiring Access Cover: Aluminum
Threaded Wiring Access Cover: Stainless Steel
Display
Head Mounted LCD Display
Loop Powered Display: 4-1/2-Digit LCD 1/2" High
Length
Antenna Extension: 6" (150 mm) Only with Teflon Rod Antenna
Antenna Extension: 8" (203.2 mm) Only with Teflon Rod Antenna
Load Resistance
Power Supply: 750 ohms, Maximum
Materials of Construction
Antenna: Polypropylene Rod
Antenna: Teflon Rod
Horn Antenna: 316L Stainless Steel
Measuring Range
17 to 240 feet (5 to 73 metres)
NPT Connection
1-1/2" NPT Male
2" NPT Male
3" NPT Male
Output
20-4 mA
2-Wire with 16-30 Vdc Loop Powered
3-Wire with 12-30 Vdc Power
4-20 mA
Power Supply
115 Vac (± 20 %), 1.7 VA
12-30 Vdc, 0.07 A, Maximum
16-30 Vdc (Loop Powered) 0.07 A, Maximum
230 Vac (± 20 %), 1.7 VA
Pressure Range
bar: 0 to 5
kPa: 0 to 500
psi: 0 to 72.52
Process Temperature
De-Coupler & PTFE Rod: -40° to 177° C (-40° to 350° F)
PP Rod: -40° to 60° C (-40° to 140° F)
Range
Loop Powered Display: 3.5-22 mA
Resolution
0.08 to 1.06" (2 to 26 mm)
Output: 6.1 µA
Temperature Range
-40° to 60° C (-40° to 140° F)
Voltage Drop
Loop Powered Display: 0.95 V at 20 mA
Animal Fat Under High Temperature
Chemicals with Vapors
Food & Beverage
Oils, Fuels, Water & Wastewater