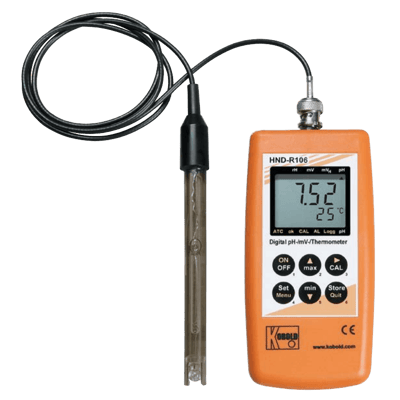 Images are representations only.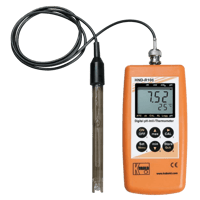 The KOBOLD hand-held pH, Redox and temperature measuring units of the HND-R106 model are compact and universally applicable measuring units for electrodes with BNC plug connection.

An extensive selection of electrodes makes it possible to use the HND-R106 in almost all application areas.

The KOBOLD HND-R106 measuring unit offers functions like minimum/maximum value memory, hold function, auto off function and automatic temperature compensation. In addition to pH, Redox and temperature measurement, the device can display the relative humidity value.

This is calculated from the measured Redox-value and the previously measured or manually entered pH value.
Specifications
Accuracy
± 1-Digit at Nominal Temperature 25° C (77° F)
Applications
Chemistry
Laboratory Appliation
Pharmacy
Wastewater Treatment
Electrical Connectors
2 × 4 mm Banana Sockets/Pt1000
BNC Connector - PH & Redox Electrodes with BNC Plug Connection
Enclosure, Body Material
Housing Made of Impact Resistant ABS Plastic
Humidity
± 0.1 % Relative Humidity
0 to 70 Relative Humidity
0 to 95 % Relative Humidity, Non-Condensing
Operating Temperature
0° to 50° C (32° to 122° F)
Output
RS-232 Serial Interface (via 3-Pin Jack, Transformer or USB Optional)
USB
Power Requirement
10.5 to 12 Vdc Via Jack - External
9 V Monobloc Battery (Included in the Scope of Delivery)
Storage Temperature
-20° to 70° C (-4° to 158° F)
Temperature Effect
± 0.2° C (-20° to 80° C) (-4° to 176° F)
Temperature Range
± 0.2° C, 20° to 80° C (-4° to 176° F) Otherwise ± 0.4° C
5° to 150° C (23° to 302° F)