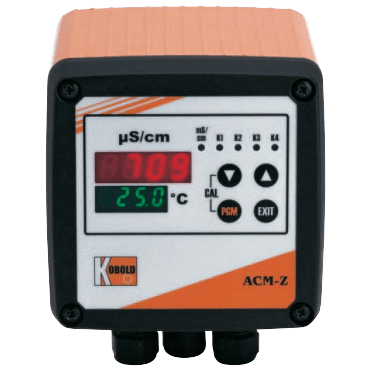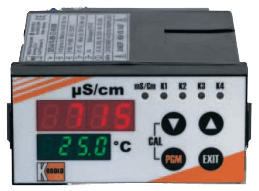 Images are representations only.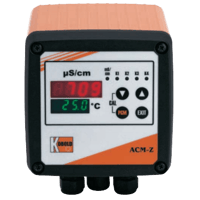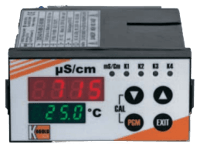 The KOBOLD ACM-Z compact microprocessor transmitter/controller measures and controls the conductivity in aqueous solutions. It is available as a panel-mounted device according to DIN 43 700 or in a field housing.

Its simple operation and user-friendly programming allow universal service in almost all areas of industrial metrology. The transmitter is fitted with two Analog and two binary inputs. The first Analog input is suited for connecting conductive conductivity measuring cells with cell constants 0.01; 0.1; 1.0; 3.0 and 10.0 1/cm, depending on the desired measuring range (see table "Cell constant and measuring range"). A Pt 100 resistance thermometer may be connected to the second Analog input.

The device has two 4-position, 7-segment displays for indicating conductivity (red) and temperature (green). The display show comments during programming. The two controller relays can be configured as limit value and/or pulse lengths or pulse frequency controllers with P, PI, PD or PID structure. A maximum of two relay make contacts, one binary output and one Analog actual-value output is available.

To simplify programming and operation, controller parameters and configuration data have been assigned to different levels.

User Level
Parameter Level
Configuration Level
The levels are secured with passwords against unauthorized access. Membrane keys ensure simple and user-friendly operation. Both LEDs show parameter symbols and values.
Features
Measuring range 0 to 200 mS/cm
Display of conductivity ( in μS/cm or mS/cm) and temperature
Easy to configurate
Cell constants available: 0.01 / 0.1 / 1.0 / 3.0 / 10.0 1/cm
Compact design
Calibration procedure for temperature coefficient of the solution and the relative cell constant
Analogue actual-value output scaleable
External setpoint value changeover possible
Two relays programmable as a controller
Two binary inputs
One binary output (alarm contact or temperature limit contact)
Specifications
Ambient Temperature Range
-10° to 55° C (14° to 131° F)
Applications
Boiler Feed Water Monitoring
Cleaning & Purification
Control of Concentration of Acids & Lyes
Cooling Water System
Desalting of Cooling Water
Detection of Phase Boundaries
Inspection of Drinking Water Treatment
Inspection of Sea Water Desalinization
Monitoring & Assessing Ion Exchanger
Monitoring Bottle Cleaning Plants
Quality Control for Drinks
Reverse Osmosis Systems
Wastewater Inspection in Clarification Plants
Electrical Connectors
DIN 46244 / A, 4.8 mm × 0.8 mm Gold-Plated Flat Connector
Enclosure, Body Material
ABS - Base Material (Panel Mounting)
Conductive Plastic - Panel Mounting
Powder-Coated Aluminum - Field Housing
Environmental Protection
IP20 - Rear (Panel Housing)
IP65 - Panel & Field Housing
Humidity
≤ 95 % Relative Humidity, Non-Condensing
Input
Pt100 / Pt1000 2 or 3-Wire Circuitry
Load Impedance
≥ 250 ohms - Binary Output
≥ 500 ohms - Actual Value Analog Output
Measuring Error
< 0.25 % ± 50 ppm/K - Output Signal
≤ 0.25 % of Measuring Range
Mounting
DIN 43700 - Panel Mounting
Output
0(2)-10 V - Actual Value Analog Output
0(4)-20 mA - Actual- Value Analog Output
0/5 V - Binary Output
3 A at 250 Vac - Switching Capacity
Power Requirement
110-240 Vac, 10 % / -15 %
20-53 Vac/dc
48-63 / 0 Hz
Resolution
> 15-bits - A/D Converter
Response Time
210 milliseconds - Sampling Interval
Storage Temperature
-40° to 70° C (-40° to 158° F)
Temperature Effect
≤ 0.1 %/10 K - Influence of Ambient Temperature
≤ 0.15 %/10 K - Influence of Ambient Temperature
Temperature Range
-50° to 250° C (-58° to 482° F) - Temperature Display