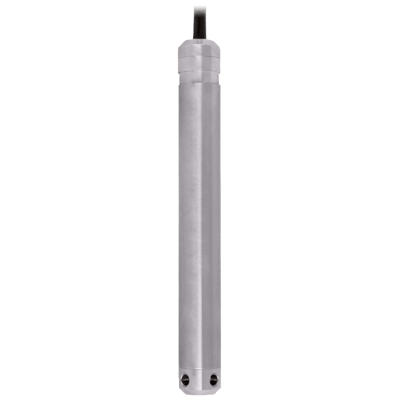 Images are representations only.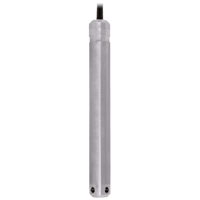 The immersion probe comprises a measuring cell, two wire transmitter and a special cable with capillary tube. The housing comprises stainless steel with a pressure-sensitive diaphragm that is protected with a stainless steel cap.

The level signal is determined by the pressure difference between the water column over the probe and atmospheric pressure which is transferred to the probe through the capillary tube.

This differential pressure is converted to a 0 to 4 mA Analog signal by the piezo-resistive cell and the fitted electronics.
Specifications
Cable Length
0 to 984.25 feet (0 to 300 metres)
Dimensions
Ø 0.86" × 6.8" (Ø 22 × 173 mm) - Probe
Electrical Connectors
0.34 mm² Wire Cross Section
Enclosure / Body Material
Loop Resistance
13 ohms ± 10 % - Series Resistor
Maximum Voltage
30 V Peak-to-Peak (Peak Value) - Fast
90 V Peak-to-Peak (Peak Value) - Slow
Mounting
DIN Rail Mounting
Field Mounting
Operating Temperature
-10° to 60° C (14° to 140° F)
Power
12-30 Vdc - Auxiliary
600 W Per 1 milliseconds - Pulse
Pressure Range
bar: 00 to 19.6
Inches WC: 0 to 7,874
kPa: 00 to 1,960
psi: 00 to 284.3
Sensor / Probe Material
316 Stainless Steel - Sensor
316Ti Stainless Steel - Probe