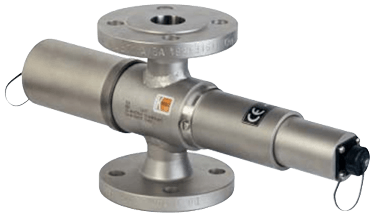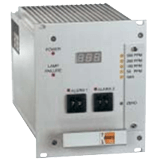 Images are representations only.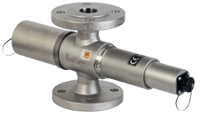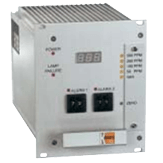 The KOBOLD Model ATS-K is a high precision 2-beam scattered light sensor. It uses the light scattered in the forward direction (11° C) and the transmitted light to measure the particles.

The sensor is manufactured from stainless steel and has been designed for fitting in process pipework.

The process medium is penetrated by a focused beam of light. The light scattered by the particles in the medium is sensed by the receiver optics at an angle of 11° C by four silicon photodiodes. At the same time the unscattered light is absorbed as transmitted light by another photodiode. Unwanted light can thus be compensated for.

Due to the small scattering angle, transmitted light and scattered light practically follow the same path in the medium, which means that product-specific noise variables such as colour or changes in colour of the carrier medium, as well as window soiling can be compensated for. The sensor uses visible (VIS) and near infrared (NIR) light from 400 to 1100 nm.
Specifications
Accuracy
< 1 % of Full Scale
± 2 % of Set Upper Range Value - ATS-K
Adjustment
1 % Steps of Measuring Range - Alarm Setting
Ambient Temperature Range
0° to 40° C (32° to 104° F) - ATS-K
0° to 50° C (32° to 122° F) - ATT-K
Applications
Crystallization Techniques
Drinking Water / Waste Water
Filter Control
Gas Bubbles
Oil in Water
Particle Concentration
Phase Separation
Sedimentation
Separator Control
Water in Oil
Approvals & Certifications
Approvals & Certifications
Cable Length
492.12 feet (150 metres) - Maximum
Consumption
30 VA - Power Consumption
Electrical Connectors
2 Changeover Contact - Floating: FAIL-SAFE
Enclosure, Body Material
316 Stainless Steel
316Ti Stainless Steel
TFMC
Titanium
Environmental Protection
IP40 - Panel Housing
IP65 - (Optics Case V4A)
IP66 - Field Housing
Frequency
47 to 64 Hz - Power Supply
NPT Connection
1" NPT Female
2" NPT Female
Output
4-20 mA: (Electrically Isolated)
Pipe Connection
1" Pipe (DN 25)
2" Pipe (DN 50)
Power Requirement
115 Vac
230 Vac
24 Vac/dc
Process Temperature
0° to 100° C (32° to 212° F)
Supply Pressure - Maximum
psi: 232 (kPa: 1,600, bar: 16)
Window Material
Borosilicate Glass
Sapphire - Optional