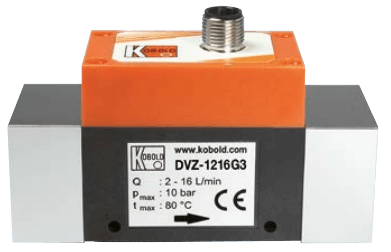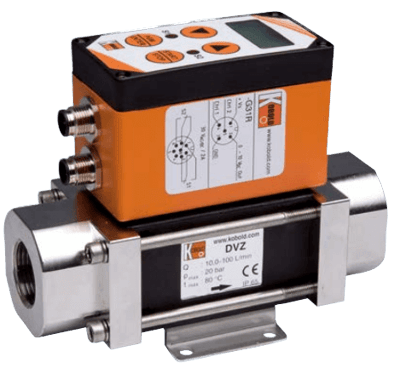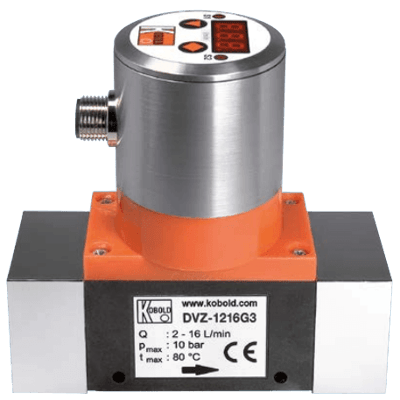 Images are representations only.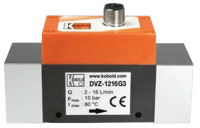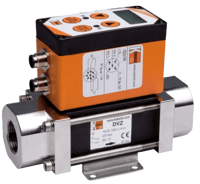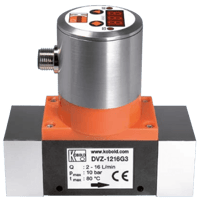 The compact KOBOLD Vortex flow meter Model DVZ is used for measuring and monitoring smaller and medium-sized flow of low viscosity, water-like liquids in pipes.

The device works using the vortex principle, making it virtually maintenance-free. This involves the installation of a sharp-edged object (the vortex generator) in the flow duct. Vortices are created behind the object whose frequency is proportional to the velocity of flow of the liquid.

The flow volume can be determined with a very great degree of accuracy by measuring the vortex frequency. This achieves a very high linearity over the whole measuring range.

The device can be fitted with switching, frequency or analogue outputs. There is also an optional compact electronics package that includes a digital display, and both a switching and Analog output. Dosing and metering electronics are currently being developed.
Specifications
Ambient Temperature Range
-10° to 60° C (14° to 140° F)
Applications
Measuring of Aggressive, High-purity or Salty Solutions
Monitoring the Flow of Low Viscosity Liquids
Unsuitable for Abrasive Media or Media Contaning A Large Proportion of Fibres
Approvals & Certifications
BSP Connection
G 1" Female
G 1/2" Female
G 1/4" Female
G 3/4" Female
G 3/8" Female
Configuration
0(4)-20 mA Analog Output Adjustable - Compact Electroics
Connection Material
316 Stainless Steel - Wetted Materials
Brass, up to 32 L/minute - Wetted Materials
Nickel-Plated Brass, from 40 L/minute - Wetted Materials
Consumption
100 mA - Compact Electronics
25 mA
5 mA
Approximately 150 mA - Counter, Dosing Electronics
Display
2 × 8-Digit LCD Display - Counter, Dosing Electronics
3-Digit LED Display
Dual LED for Switching Condition & when Range Limit is Exceeded
Electrical Connectors
DIN 43650
M12 Plug - Counter Electronics
M12 × 1
M12, 5-Pole - Compact Electronics
Plug M12×1.5-Pole
Electrical Contacts
N/C or N/O Programmable - Compact Electronics
Enclosure, Body Material
Fiberglss Reinforced
Oxide Ceramic (Non-Wear Version)
PPS
Flow Rate
0.5 - 4.5 to 10 - 100 L/minute
Function
Correction Amount
Dosing
Fine Dosing
Flow Switch
Language
Minimum/Maximum
Monitoring for Part
Reset
Start
Stop
Total Quantity
Maximum System Pressure
psi: 145 to 290 (kPa: 1,000 to 2,000, bar: 10 to 20)
Mounting Position
Any, Flow in Direction of Arrow
NPT Connection
1" NPT Male
1/2" NPT Male
1/4" NPT Male
3/4" NPT Male
3/8" NPT Male
Output
0-20 mA
1 A at 30 Vdc
1 or 2 Open Collector - Compact Electronics
24 Vdc
30 Vac/Vdc / 2 A / 60 VA - Counter, Dosing Electronics
4-20 mA, 3-Wire
Maximum
PNP Pulse
Output Function
Normally Closed
Normally Open
Process Temperature
0° to 80° C (32° to 176° F)
Relay Output
2 Relays - Counter, Dosing Electronics
Response Time
1 second (At Flow Changes > 10 % of Full Scale)
Seat / Seal Material
EPDM - Wetted Materials
FPM - Wetted Materials
NBR - Wetted Materials