Images are representations only.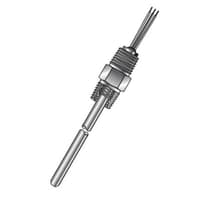 This spring loaded RTD probe is compact, low cost and ideal for both OEM and custom applications.

Many wire choices are available for custom configurations. A adjustable stainless steel integral spring insures positive spring loading for thermowell mounting.

RTD can be replaced without removal of fitting or assembly.
Features
Spring loaded RTD probe ready to assemble in thermowells
SS 316 or Inconel® 600 sheath
1/2" x 1/2" NPT hex fitting, available O-Ring sealing
All parts stainless steel
RTD replaceable from top of fitting
Specifications
Approvals & Certifications
Certificate of Compliance
Insulation Resistance
Dual Element Probes: 100 megaohms Minimum at 100 Vdc, between Element & Leads to Case
Single Element Probes: 100 megaohms Minimum at 500 Vdc, Leads to Case
Materials of Construction
Lead Wire Insulation (Overall Jacket): Aluminum
Lead Wire Insulation (Overall Jacket): Mylar
Lead Wire Insulation: Glass
Lead Wire Insulation: Teflon
Sheath: 316 Stainless Steel
Sheath: Inconel 600
O-Ring Material
O-Ring Seal: Viton, Maximum
Pressure Rating
Tube Only - psi: 500 (kPa: 3,450, bar: 34.5)
Process Connection Material
RTD Type
Pt100 ohm at 0° C (32° F), α = 0.00385 IEC 751 & DIN (43760, EN 60751)
Pt1000 ohm at 0° C (32° F), α = 0.00385 DIN EN 60751
Sensor, Probe Connection
2-Wire (Single/Dual)
3-Wire (Single/Dual)
4-Wire (Single/Dual)
Sensor, Probe Diameter
Probe: 3/16 to 1/4" (4.76 to 6.35 mm)
Sensor, Probe Material
Probe: 316 Stainless Steel
Probe: Inconel 600
Size
Finish: 32 µ" (0.8 µm) - Maximum
Temperature Range
-200° to 600° C (-328° to 1,112° F)
Lead Wire Insulation: 200° to 482° C (392° to 900° F)
Probe: -50° to 200° C (-58° to 392° F)
Tolerance
Element: ± 0.04 % ( ± 0.1° C) at 0° C (32° F), Class AA
Element: ± 0.06 % ( ± 0.15° C) at 0° C (32° F), Class A
Element: ± 0.12 % ( ± 0.3° C) at 0° C (32° F), Class B
OEM & Custom Applications