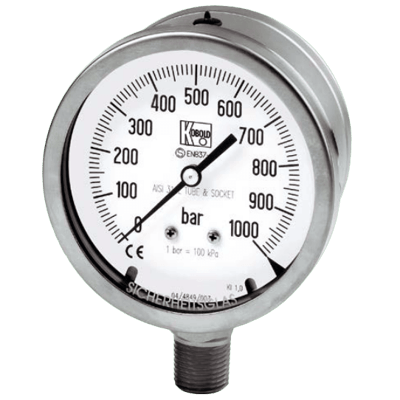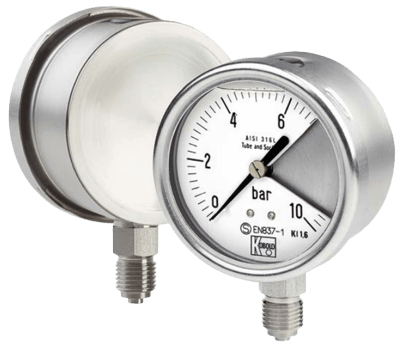 Images are representations only.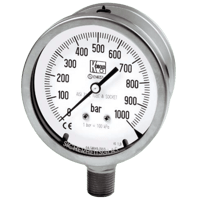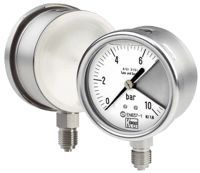 These Solid-front instruments are built in accordance with safety specifications of EN 837.1 and ASME B40.1.

The safety construction consists of a solid separating wall in stainless steel, placed between the scale and the elastic element and a blow out back which is released from the case whenever an internal pressure, due to leaks, is created or the elastic element is broken.

A leak tight fit is ensured if the instrument is filled with a dampening fluid to prevent damage due to vibration. These instruments are designed for use in food, beverage, pharmaceutical, cryogenic, chemical and petrochemical processing industries, and in conventional and nuclear power plants.

They are built to resist the most severe operating conditions created by the ambient environment and the process medium.
Specifications
Accuracy
1.0 as Per EN 837-1
1.6 as Per EN 837-1
Ambient Temperature Range
0° to 65° C (32° to 149° F) - With Glycerine Filling
-25° to 65° C (-13° to 149° F)
-40° to 65° C (-40° to 149° F) - with Silicon Oil or Fluorinated Fluid Filling
-50° to 65° C (-58° to 149° F)
Applications
Chemical & Petrochemical
Conventional & Nuclear Power Plants
Cryogenic Systems
Food & Beverage
Pharmaceutical
Approvals & Certifications
BSP Connection
1/4" BSP Male
3/8" BSP Male
G 1/2" Male
G 1/4" Male
Enclosure, Body Material
AISI 304 Stainless Steel (Dial Size: 100 mm / 150 mm)
Stainless Steel
Environmental Protection
IP55 as Per IEC 529
IP67 as Per IEC 529
Fill Material
Fluorinated Fluid
Glycerine 98 %
Silicone Oil
Materials of Construction
Adjustable / Not Adjustable, Aluminum, Black - Pointer & Dial
AISI 304 Stainless Steel - Blow Out Disk / Case (Dial Size: 100 mm / 150 mm)
AISI 316L Stainless Steel - Bourdon Tube, Socket Material
Plastic - Blow Out Disk & Dial
Stainless Steel - Movement
Measuring Range
bar: -1 to 1,600
kPa: -100 to 160,000
psi: -14.504 to 23,206
NPT Connection
1/2"-14 Male NPT
1/4" NPT Male
Operating Pressure
100 % - Static Pressure
66 % of Full Scale Value for Pulsating Pressure
75 % of Full Scale Value - Static Pressure
Maximum
Overpressure & Static Pressure Limits
25 % / 15 % of Full Scale Value, Maximum
30 % of Full Scale
50 % of Full Scale - Pressure Ranges ≤ 400 bar, Maximum
Process Temperature
100° C (212° F) - Maximum
-40° to 150° C (-40° to 302° F)
65° C (149° F) - Maximum
Ring Material
AISI 304 Stainless Steel, Bayonet Lock (Dial Size: 100 mm / 150 mm)
Size
Dial Size: 2.5" (63 mm)
Dial Size: 4" (100 mm)
Dial Size: 6" (150 mm)
Thermal Drift
± 0.4 % / 10 K of Range (Starting from 68° F / 20° C)