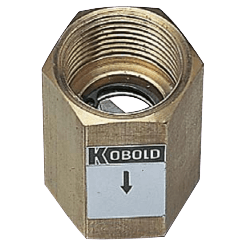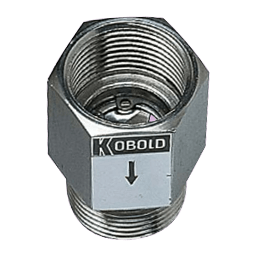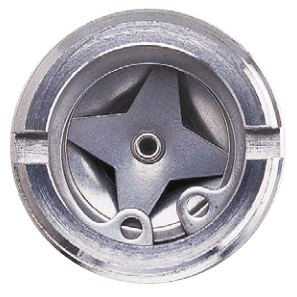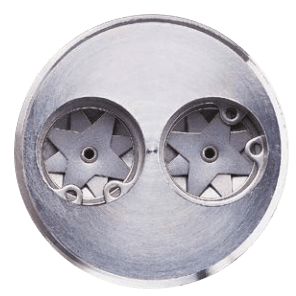 Images are representations only.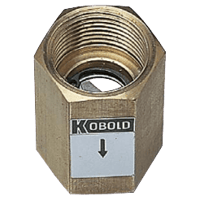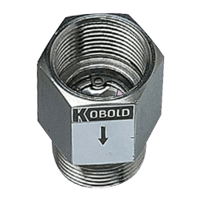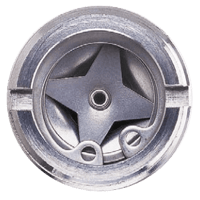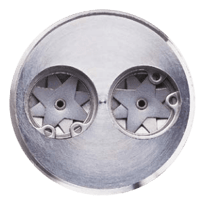 KOBOLD model REG flow restrictors serve to keep constant quantities of liquids in pipework systems. The REG rate regulators are ideally suited for the simple restriction to a preset value of throughputs of water, or of liquids similar to water.

The flow restrictors ensure equilibrium, particularly in systems with many users and resulting pressure fluctuations caused by random flow conditions. In other words, the desired throughput is not exceeded. Constant flow is achieved by two stainless steel diaphragms that are crosswise mounted and riveted together.

The gap between the spring-loaded stainless steel plate and seal face is continuously varied as the differential pressure changes. As the differential pressure decreases the gap widens, and it closes as the pressure increases, thus maintaining a constant flow volume through the device.
Features
No Auxiliary Power Require
Easy to Assemble
Compact Design
Reliable - No Wearing Parts
Energy-Saving
Easy to Fit
Specifications
BSP Connection
G 1/2" Female
G 1/2" Male
G 1-1/2" Male
G 2" Male
G 2-1/2" Male
G 3/4" Female
G 3/4" Male
G 2-1/4" Male
Differential Pressure
psi: 29.01 to 145 (kPa: 200 to 1,000, bar: 2 to 10)
Enclosure / Body Material
304 Stainless Steel - Valve
Brass ms 58 - Valve
Flange Size - 1" (DN 25)
1" (DN 25) - PN 16
1" (DN 25) - PN 40
Flange Size - 1-1/2" (DN 40)
1-1/2" (DN 40) - PN 16
1-1/2" (DN 40) - PN 40
Flange Size - 1-1/4" (DN 32)
1-1/4" (DN 32) - PN 16
1-1/4" (DN 32) - PN 40
Flange Size - 2-1/2" (DN 65)
Flange Size - 3/4" (DN 20)
3/4" (DN 20) - PN 16
3/4" (DN 20) - PN 40
Flange Size - 4" (DN 100)
Materials of Construction
304L Stainless Steel - Pan
434 Stainless Steel - Circlip
NPT Connection
3/4" NPT Female
3/4" NPT Male
Operating Pressure
psi: 2,901 (kPa: 20,000, bar: 200) - Maximum
Temperature Range
-10° to 300° C (14° to 572° F) - Service Temperature