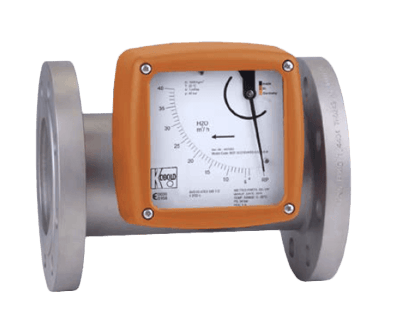 Images are representations only.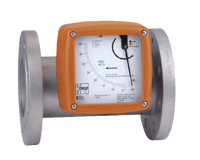 Inside the flow tube, there is a star guided float which works towards a spring. An annular gap is produced between the cone-shaped magnet system and the meter ring in case of flows other than zero. The position of the magnet system depends on the resulting force of all forces acting upon it.

These forces comprise the flow force, a spring force acting opposite to the flow force, and the buoyancy and weight force significant for the measurements in case of vertical installation.

Each position of the magnet holder corresponds to a flow value measured during calibration, which is transferred to a scale. The BGF flowmeter consists of a meter tube with connections, a meter ring, and a conical magnet holder. By means of a magnet, the position of the magnet system is transferred to an encapsulated follow magnet, which has been fitted to a pointer axle.

The position of a second annular follow magnet fitted on the pointer axle is transferred to the scale by means of the pointer.
Specifications
Accuracy
± 0.2 % - Inaccuracy by Transmitter
± 2 % of Full Scale - Liquid/Gas
Ambient Temperature Range
-40° to 80° C (-40° to 176° F)
Approvals & Certifications
BVS 03-ATEX-H/B 112
DMT 00-ATEX-E 075
Ex
Ex II 2 G EEx ia IIC T6
SIL
Configuration
ES with HART-Protocol - Transmitter
ES with HART-Protocol & Counter Module - Transmitter
ES with PROFIBUS-PA - Transmitter
FOUNDATION Fieldbus Protocols
Enclosure, Body Material
Aluminum - Stove-Enameled
Stainless Steel
Flange Size - 1/2" (DN 15)
Flange Size - 1-1/2" (DN 40)
Flow Rate
0.3 to 1,700 Nm³/hour - Air
10 to 60,000 L/hour - Water
Input
Counter Reset - Binary Input
Nominal Pressure
psi: 580.2 (bar: 40, kPa: 4,000)
Output
ES with HART-Protocol & 1 NAMUR-Switch / 1 Pulse Output - Transmitter
Galvanically Isolated
Inductive Switch - Standard & Safety Design
Micro Switch
Passive
Process Temperature
-40° to 200° C (-40° to 392° F)
Sensor / Probe Material
316L Stainless Steel
Hastelloy C-22
PTFE
Switch Type
ES with HART-Protocol & 2 NAMUR-Switches - Transmitter
Flow Measurement & Monitoring
Adjusting and control of liquid and gaseous products
Ideal for processes under difficult and adverse operating conditions.