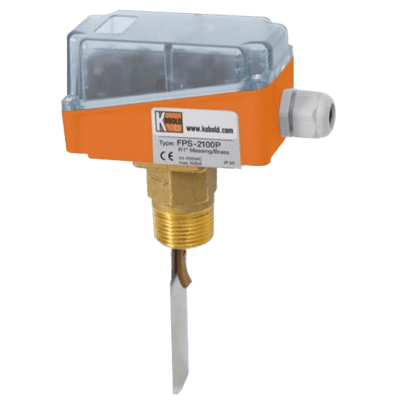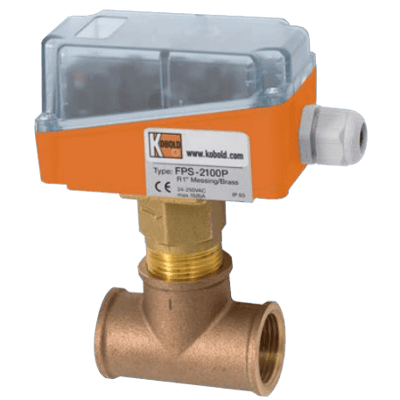 Images are representations only.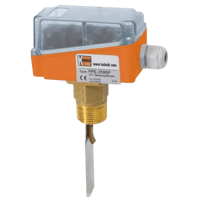 The KOBOLD flow monitor FPS operates according to the proven paddle bellows principle. The flowing medium acts on the paddle thus actuating a microswitch.

Switching point can be freely adjusted and the device mated to different nominal pipe sizes by means of the replaceable paddle in conjunction with the additional adjustment features.

The electrical device section is separated hermetically from the process fluid by means of a bellows. The special version of the flow monitor has been specially designed for minimum switching values. See table for switching values. The devices can be installed in any position.
Specifications
Ambient Temperature Range
-35° to 65° C (-31° to 149° F)
Applications
Dry Running Protection for Pumps
Monitoring Cooling Circuits
Monitoring Lubricant Circuits
Prevention of Low Water Levels
Approvals & Certifications
BSP Connection
G 1/2" Male
G 3/4" Male
1" BSPT Male
Electrical Rating
15 A, Maximum
24-250 Vac, Maximum
8 A, Maximum
Enclosure, Body Material
321 Stainless Steel
Brass
Flow Rate
0.17 to 0.85 to 72.6 to 165.7 m³/hour to Water
Materials of Construction
316L Stainless Steel - Paddle
Zinc-Plated Steel - T-Piece
Maximum System Pressure
psi: 159.5 (kPa: 1,100, bar: 11) - Brass
psi: 435 (kPa: 3,000, bar: 30) - Stainless Steel
Pipe Connection
1" Pipe (DN 25)
1/2" Pipe (DN 15)
1-1/2" Pipe (DN 40)
1-1/4" Pipe (DN 32)
2" Pipe (DN 50)
2-1/2" Pipe (DN 65)
3" Pipe (DN 80)
3/4" Pipe (DN 20)
4" Pipe (DN 100)
5" Pipe (DN 125)
6" Pipe (DN 150)
8" Pipe (DN 200)
Process Temperature
-40° to 120° C (-40° to 248° F)