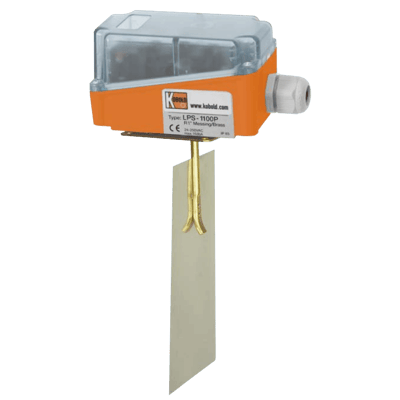 Images are representations only.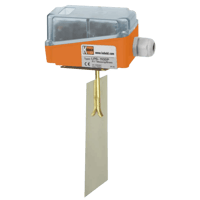 The monitored air stream acts on the paddle and over a mechanism actuates the dust-proof microswitch that signals whether the set min. or max. volume of air flows.

The KOBOLD flow monitor is suited for universal application as the switch/ signaling point can be finely adjusted over a broad range.
Specifications
Applications
Air Conditioning Systems
Air Discharge
Air Duct Flow
Exhaust Gas Channels
In Pneumatic Conveyors
On Cyclones
On Filters
Plant Engineering
Ventilator/Blower Performance Monitoring
Approvals & Certifications
Deadband
≥ 1 m/sec - Differential Gap
Dimensions
4.02" × 3.03" (102 × 77 mm) - Connection Plate
Electrical Rating
15 A, Maximum
24-250 Vac, Maximum
8 A, Maximum
Enclosure, Body Material
Glass-Fibre-Reinforced
Polyamide
Zinc-Plated - Mounting Plate
Length
0.0079" (0.2 mm) - Paddle
Materials of Construction
304 Stainless Steel - Paddle
Brass ms 58 - Lever
Switch Point Range
1 to 8 mps - Switching Off
2.5 to 9.2 mps - Switching On