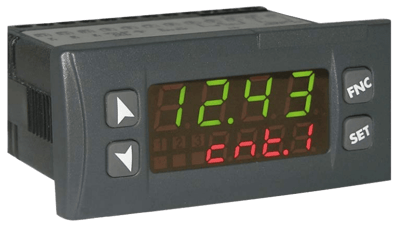 Images are representations only.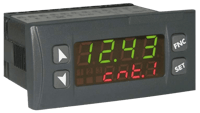 The compact small counter DAG-Z2F80W2 can be set in two different modes: Single or Double counter, all with independent setting. 3 universal digital inputs are available (NPN/PNP/TTL) can be used for bi-directional encoders reading, UP/DOWN counter function, LOCK/HOLD to lock or hold current visualization.

One input is also Analog in order to allow setpoint modification by an external potentiometer. Due to the two different modes and the scaling features, the counter is usable for a lot of different applications.

In addition to an excellent cost effectiveness and high quality, the counter offers a rugged, compact housing and a brilliant display.
Specifications
Dimensions
1.12" × 2.77" (28.5 × 70.5 mm) - Panel Cut Out
Display
20-Line LED Display
4-Digit
Lower Line - Set Point, 4-Digit, Red with 7.6 mm Digits
Upper Line - Counting Value, 4-Digit, Green with 10.2 mm Digits
Enclosure, Body Material
Plastic - Black & Robust Case
Environmental Protection
IP20 - Back Plane
IP65 from the Front (with Rubber Sealing)
Function
Counting Direction, Stop, Hold, Wait
Humidity
35 to 95 % Relative Humidity, Non-Condensing
Indication
Red Status Light - for Status Relay Output
Yellow Indication Light - for Serial Communication
Operating Temperature
0° to 45° C (32° to 113° F)
Power Supply
30 mA (25 Vac)
40 mA (24 Vdc)
60 mA (110-230 Vac)
Programming
Menu Guided Via the Front Keys
Relay Output
1 Changeover & 1 Closing Contact with 5 A at 250 Vac
2 Relays
250 Vac / 5 A
Supply Voltage
24-230 Vac/Vdc, ± 15 %, 50/60 Hz, 2 W
Switch Type
NPN Transistor
PNP Transistor