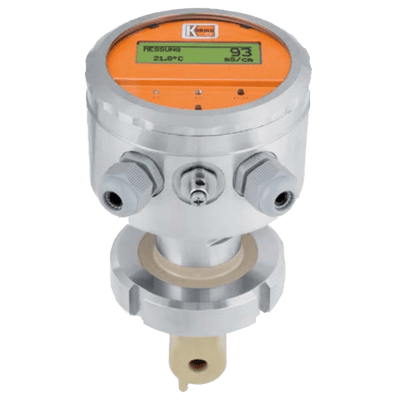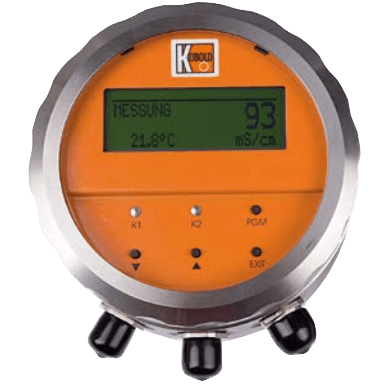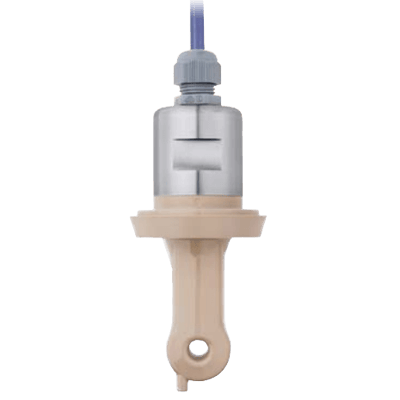 Images are representations only.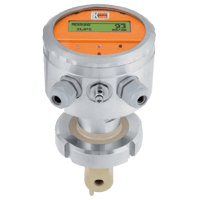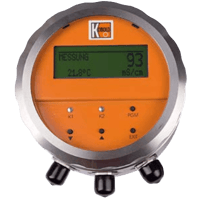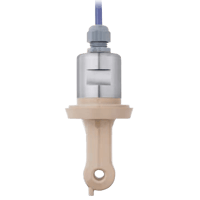 The device LCI is used for the measurement and control of the conductivity and respectively for concentrations of liquid media. The integrated temperature measurement makes exact and fast temperature compensation (linear and non-linear) possible, which is particularly important for the measurement of the conductivity.

Additional functions such as the combined switching of the measurement range and temperature coefficient make possible the optimum use in case of CIP-processes.

Two integrated switching outputs can be freely programmed for limit value monitoring or conductivity/concentration and/ or temperature. In addition, alarm and control tasks (desalination) can be assigned.

Operation is either via a membrane keyboard and a plain text graphical display (user language can be changed) or via a comfortable PC-setup program. By simply turning the housing cover, reading the display is possible both in case of installation in vertical and horizontal pipes.

By means of the setup program, the device configuration data can also be saved and printed for plant documentation purposes. The housing is specially produced out of stainless steel for use in the foodstuffs industry.

The LCI can be supplied as a compact device (transmitter and measuring call in one device) or as a remote version (transmitter and measuring cell connected by cables).

The remote version is particularly suitable for plants with intense vibrations and/or intense temperature radiation at the measurement location or for installation in inaccessible places.
Specifications
Accuracy
≤ 0.5 % of Full Scale - Transmitter
≤ 1 % of Full Scale - Transmitter
Thermal Error: ≤ 0.1 %/K (Ambient)
Alarm
High - Analog Output 22.0 mA / 0.7 V
Low - Analog Output 0 mA/0 V/3.4 mA/1.4 V
Ambient Temperature Range
5° to 50° C (41° to 122° F) - Transmitter
Applications
Breweries & Dairies Systems
Chemical Processing Plants
CIP- Systems
Food & Beverage
Monitoring Bottle Cleaning Plants
Pharmaceutical
Water & Wastewater Engineering
Compensated Temperature
-20° to 150° C (-4° to 302° F)
Display
Graphic LCD with Background Lighting, Contrast Adjustable - A/D Converter
Electrical Connectors
M12 Plug/Sockets - A/D Converter
Threaded Plug Terminals 2.5 mm² - A/D Converter
Function
Linear - Temperature Transmitter
Natural Water (EN 27 888)
Non-Linear
Load Impedance
≤ 500 ohms - Current Output
≥ 2 kiloohms Voltage Output - Temperature Transmitter
2 kiloohms Voltage Output - Conductivity/Concentration Transmitter
Maximum System Pressure
psi: 145 (bar: 10, kPa: 1,000)
Output
0-10 V
0-20 mA
2 to 10 V
4-20 mA
Power Requirement
19 to 31 Vdc (Nominal 24 Vdc)
Process Temperature
-10° to 120° C (14° to 248° F)
Response Time
500 milliseconds - A/D Converter
Sensor / Probe Material
PEEK (Polyetheretherketone)
PVDF (Polyvinylidenefluoride)
Storage Temperature
-10° to 75° C (14° to 167° F) - Transmitter
Temperature Effect
0 to 5.5 %/K Adjustable - Temperature Coefficient
Temperature Range
-20° to 150° C (-4° to 302° F) - Transmitter