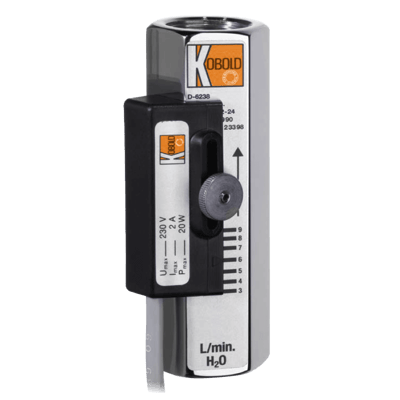 Images are representations only.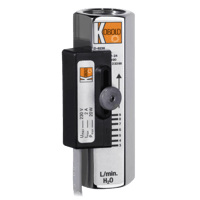 KOBOLD flow meters and monitors of model SWK operate on the known suspended float principle, however without using the generally known conical measuring tube.

An orifice float moves in the direction of flow against the force of a spring in a cylindrical guide tube. The float contains a permanent magnet which operates a floating sealed contact (reed contact) mounted on the outside. The instruments are small and can be mounted in any orientation.

Model SWK flow switches are ideally suited for monitoring low flows.
Specifications
Applications
Cooling Circuits
Glass-Melting Tanks
Induction Furnaces
Infusion Pumps
Lubricant Circuits
Machine Tools
Paper Machines
Welding Machines
Approvals & Certifications
Electrical Connectors
1 m PVC Cable
Changeover Contact
Electrical Rating
Changeover Contact: 100 Vac/dc, 0.5 A, 5 W/VA, Maximum
Switch Contact: Bistable Reed Contact 230 Vac/dc, 3 A, 60 W/VA, Maximum
Enclosure / Body Material
304 Stainless Steel
Brass ms 58, Nickel-Plated
PVC
Hysteresis
3 mm on Scale - Switching Hysterisis
Materials of Construction
304L Stainless Steel - Float Material
Brass ms 58 - Float Material
Ceramic - Magnets
PVC - Float Material
Maximum System Pressure
psi: 3,626 (kPa: 25,000, bar: 250)
Repeatability
± 4 % of Full Scale - Indicator
≤ ± 2.5 % of Full Scale - Contact
Ring Material
304 Stainless Steel - Butt Rings
Brass ms 58- Butt Rings
PVC - Butt Rings
Spring Material
301 Stainless Steel - Compression Spring
Switch Point Range
Water: 0.05 to 24 L/minute