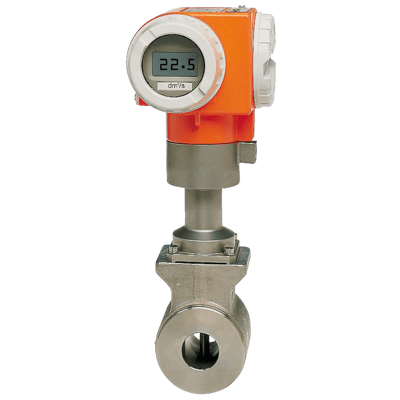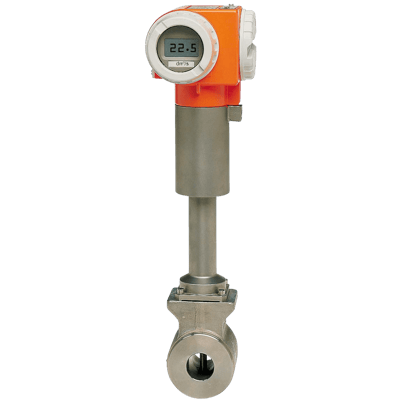 Images are representations only.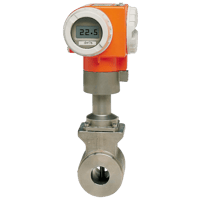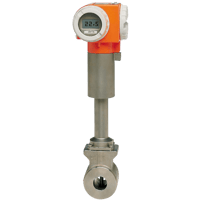 The Compact KOBOLD Type PWL flow meter works on the Vortex principle. A Karman vortex is created downstream of the sensor body, i.e. the fluid flow causes vortices to be created on both sides, and these are straightened out by the current.

This straightening out of the vortex is proportional to the flow velocity of the medium.

Every vortex creates a small negative pressure which is detected by a capacitive pressure pick-up and converted into an electrical pulse. A downline transducer converts the pulse signal into a standard output signal.

The sensor's special design eliminates vibrations in the pipe-line (< 1 g to 500 Hz) by means of a primary compensation. This means that it is not necessary to adjust either the device or the zero-point.

The necessary intake and output lengths can be shortened using the separately available flow straighteners.
Specifications
Accuracy
< 1 % - Gas/Steam
± 0.75 %
Ambient Temperature Range
-40° to 85° C (-40° to 185° F)
Applications
Chemical Processing
Heat Supply
Mechanical Engineering
Petrochemical Plants
Power Plants
Approvals & Certifications
Display
2 Line × 16-Characters
LCD Display
Enclosure / Body Material
Varnished Aluminum Die Cast
Flange Size - 1" (DN 25)
1" (DN 25) - ANSI Class 150
1" (DN 25) - ANSI Class 300
1" (DN 25) - PN 16
1" (DN 25) - PN 40
Flange Size - 1/2" (DN 15)
1/2" (DN 15) - ANSI Class 150
1/2" (DN 15) - ANSI Class 300
1/2" (DN 15) - PN 16
1/2" (DN 15) - PN 40
Flange Size - 10" (DN 250)
10" (DN 250) - ANSI Class 150
10" (DN 250) - ANSI Class 300
10" (DN 250) - PN 16
10" (DN 250) - PN 40
Flange Size - 1-1/2" (DN 40)
1-1/2" (DN 40) - ANSI Class 150
1-1/2" (DN 40) - ANSI Class 300
1-1/2" (DN 40) - PN 16
1-1/2" (DN 40) - PN 40
Flange Size - 12" (DN 300)
12" (DN 300) - PN 16
12" (DN 300) - PN 25
12" (DN 300) - PN 40
Flange Size - 2" (DN 50)
2" (DN 50) - ANSI Class 150
2" (DN 50) - ANSI Class 300
2" (DN 50) - PN 16
2" (DN 50) - PN 40
Flange Size - 3" (DN 80)
3" (DN 80) - ANSI Class 150
3" (DN 80) - ANSI Class 300
3" (DN 80) - PN 16
3" (DN 80) - PN 40
Flange Size - 4" (DN 100)
4" (DN 100) - ANSI Class 150
4" (DN 100) - ANSI Class 300
4" (DN 100) - PN 16
4" (DN 100) - PN 40
Flange Size - 6" (DN 150)
6" (DN 150) - ANSI Class 150
6" (DN 150) - ANSI Class 300
6" (DN 150) - PN 16
6" (DN 150) - PN 40
Flange Size - 8" (DN 200)
8" (DN 200) - PN 10
8" (DN 200) - PN 16
8" (DN 200) - PN 25
8" (DN 200) - PN 40
Materials of Construction
316L Stainless Steel - Measuring Tube
Media
Gas
Liquids
Saturated Steam
Steam
Output
36 Vdc
4-20 mA with HART, 2-Wire
Power Requirement
12-36 Vdc - without HART
18-36 Vdc - with HART
Temperature Range
-200° to 400° C (-328° to 752° F)