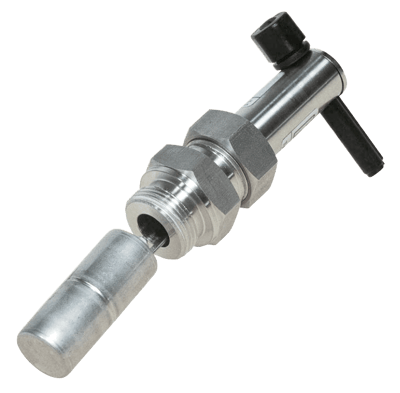 Images are representations only.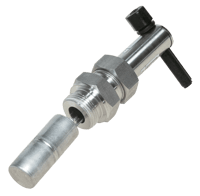 The KOBOLD level switch model NV is a reasonably-priced compact instrument for monitoring levels. A stainless steel cylindrical float attached to one end of a balance arm moves up and down with the liquid level.

The motion of the float is transferred to a permanent magnet fitted at the other end of the balance arm.

The permanent magnet switches a reed contact that is fitted in a sliding tube outside the medium. The tube is set as a N/O contact at the factory, that is, the contact closes when the level rises. The switching function is reversed by moving the tube.

The instruments are delivered in standard sleeves for side installation. PTFE tape is used to seal the switch.
Specifications
Applications
Car Washes
Cleaning Machines
Heating Boilers
Approvals & Certifications
Cable Material
Polyurethane (PUR)
PVC
Silicone Sheathed Cable
Connection Material
304L Stainless Steel
Brass, ms 58
Electrical Contacts
Bistable Reed Contact
Changeover Contact
Normally Closed
Normally Open
Electrical Rating
150/40 Vac, 0.13/0.5 A, 20 W - Changeover Contact
Maximum
Enclosure / Body Material
304L Stainless Steel
Brass, ms 58
Materials of Construction
301 Stainless Steel - Balance Aram & Float
Polyamide - Contact Tube
Maximum System Pressure
psi: 232.1 (bar: 16, kPa: 1,600)
Sleeve Material
304 Stainless Steel
Brass, ms 58
Switch Type
changeover Switch
Normally Open or Normally Closed