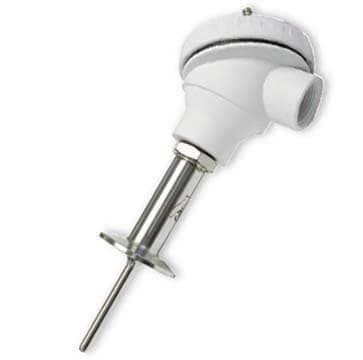 Images are representations only.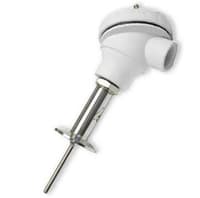 Intempco RS80 series hygienic clamp union style assemblies are an excellent choice for easy installation into a "tee", "cross", or directly into a sanitary tube.

Connection head options include polypropylene, stainless steel, bakelite, Teflon and others.

The probes can be ordered up to 1/2 inch in diameter for applications where long structurally robust probes are required.

Many different mechanical configurations derived from this basic RS80 series are available.

Review the complete sanitary RTD brochure to find an assembly appropriate for you application or contact Intempco and we will provide a complete customized solution.
Features
Sanitary 3-A qualified
Operating temperature range of -50° to 200° C (-58° to 392° F)
RTD element 100Ω DIN EN 60751, α = 0.00385 (Ohm/Ohm)/° C, Class A, single, 4-Wire
1/4" probe diameter, stainless steel 316
FDA Compliant white polypropylene enclosure with 3/4" electrical conduit connection
Specifications
Approvals & Certifications
Diameter
Probe Diameter: 1/4 to 1/2" (6.4 to 12.7 mm)
Sheath O.D.: 1/4 to 5/8" (6.4 to 15.9 mm)
Tip O.D.: 1/8 to 1/4" (3.2 to 6.4 mm)
Enclosure, Body Material
316 Stainless Steel
316L Stainless Steel
Bakelite
Cast Stainless Steel
Polypropylene
Environmental Protection
IP67 Hermetically Sealed
NEMA 6P Hermetically Sealed
Instrument Connection
1/2" NPS Male
1/2" NPT Male
Insulation Resistance
> 100 megaohms at 100 Vdc Lead Wire to Sheath at 25° C (77° F)
Operating Temperature
-50° to 200° C (-58° to 392° F)
-50° to 400° C (-58° to 752° F)
RTD Type
Pt100 DIN EN 60751, α = 0.00385(Ohm/ohm)/°C⁻¹, Class A Single, 4-Wire
Sensor, Probe Connection
2-Wire Single, Dual
3-Wire Single, Dual
4-Wire Single
Tri-Clamp Connection
1" Hygienic Clamp Union
1-1/2" Hygienic Clamp Union
2" Hygienic Clamp Union
2-1/2" Hygienic Clamp Union
3" Hygienic Clamp Union
Wetted Materials
316 Stainless Steel
316L Stainless Steel