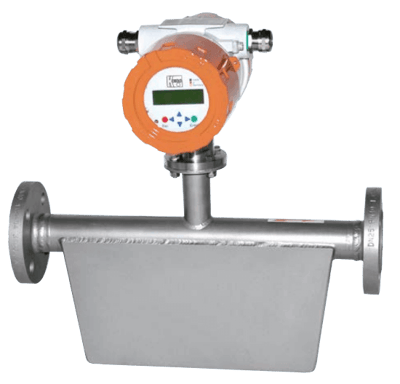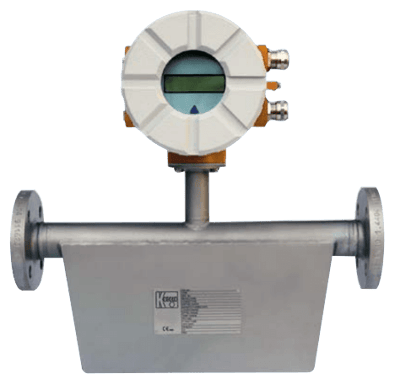 Images are representations only.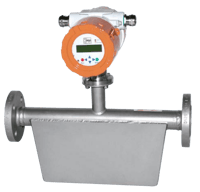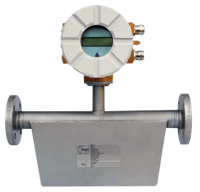 The Kobold Mass Flow Meter model TMU utilizes the Coriolis principle of operation to measure mass flow. Density and temperature are simultaneously monitored and volumetric flow is additionally calculated with these parameters.

The TMU Series is available with a direct mounted transmitter or in a remote mounted configuration. The unit can be used to meter nearly all liquid or gaseous media and was especially designed to operate in many standard applications.

It is applied in many different industrial branches. The TMU Series is also used for precise dosing as well as in loading and unloading applications. Approvals for service in custody transfer (fiscal metering) applications are also available
Specifications
Accuracy
± 0.1 % to ± 0.15 % of Reading, ± Zero Point Stability - Liquid
± 0.2 % of Reading, ± Zero Point Stability
± 0.5 % of Reading, ± Zero Point Stability - Gas
Ambient Temperature Range
-20° to 60° C (-4° to 140° F) - Standard
-20° to 80° C (-4° to 176° F) - Special Version
Applications
Chemical & Petrochemical
Food Industry
Oil & Gas Industry
Approvals & Certifications
ASME B16.5
ASME Class 150, 300
CE
EN 1092
GOST-R
IEC Ex
NEPSI
Communication
FOUNDATION Fieldbus
HART
Modbus RTU (RS-485)
PROFIBUS PA
Consumption
1.8 W
200 mA - Maximum
3 W
60 mA
Cover Material
Safety Glass - Display Cover
Electrical Connectors
Junction Box
Plug Connection
Enclosure / Body Material
Aluminum (Painted)
Hastelloy C-22
Stainless Steel
Environmental Protection
Intrinsically Safe
IP66
IP68
Flange Material
316L Stainless Steel
316Ti Stainless Steel
Hastelloy C-22
Flange Size - 1" (DN 25)
1" (DN 25) - 300#
1" (DN 25) - 600#
1" (DN 25) - PN 40
Flange Size - 1/2" (DN 15)
1/2" (DN 15) - 150#
1/2" (DN 15) - 600#
1/2" (DN 15) - PN 40
Flange Size - 10" (DN 250)
10" (DN 250) - 150#
10" (DN 250) - 300#
10" (DN 250) - PN 10
10" (DN 250) - PN 16
Flange Size - 1-1/2" (DN 40)
1-1/2" (DN 40) - 150#
1-1/2" (DN 40) - 300#
1-1/2" (DN 40) - 600#
1-1/2" (DN 40) - PN 40
Flange Size - 12" (DN 300)
12" (DN 300) - 150#
12" (DN 300) - 300#
12" (DN 300) - PN 10
12" (DN 300) - PN 16
Flange Size - 14" (DN 350)
14" (DN 350) - 150#
14" (DN 350) - 300#
14" (DN 350) - PN 10
Flange Size - 16" (DN 400)
16" (DN 400) - 150#
16" (DN 400) - PN 10
Flange Size - 2" (DN 50)
2" (DN 50) - 150#
2" (DN 50) - 300#
2" (DN 50) - 600#
2" (DN 50) - PN 40
Flange Size - 3" (DN 80)
3" (DN 80) - 150#
3" (DN 80) - 300#
3" (DN 80) - 600#
3" (DN 80) - PN 40
Flange Size - 3/4" (DN 20)
3/4" (DN 20) - 150#
3/4" (DN 20) - 600#
Flange Size - 3/8" (DN 10)
Flange Size - 4" (DN 100)
4" (DN 100) - 150#
4" (DN 100) - 300#
4" (DN 100) - 600#
4" (DN 100) - PN 16
Flange Size - 5" (DN 125)
5" (DN 125) - 150#
5" (DN 125) - 300#
5" (DN 125) - PN 16
Flange Size - 6" (DN 150)
6" (DN 150) - 150#
6" (DN 150) - 300#
6" (DN 150) - PN 16
Flange Size - 8" (DN 200)
8" (DN 200) - 150#
8" (DN 200) - 300#
8" (DN 200) - PN 16
Flow Rate
0 to 60 to 0 to 2,200 kg/h to Water
Input
200 mA
3 W
30 V
Counter Reset
Materials of Construction
316 Stainless Steel - Flow Tubes, Splitter
316 Titanium Stainless Steel - Flow Tubes, Splitter
Hastelloy C-22 - Flow Tubes, Splitter
Mounting
Integrated Mounting
Remote Mounting
Nominal Pressure
psi: 580.2 (kPa: 4,000, bar: 40) - Sensor
Output
30 V
4-20 mA
Galvanically Isolated
Optocoupler
Passive
Power Requirement
19-36 Vdc
24 Vac ± 20 %
90-265 Vac
Process Temperature
-40° to 260° C (-40° to 500° F)
Temperature Range
260° C (500° F) - Maximum