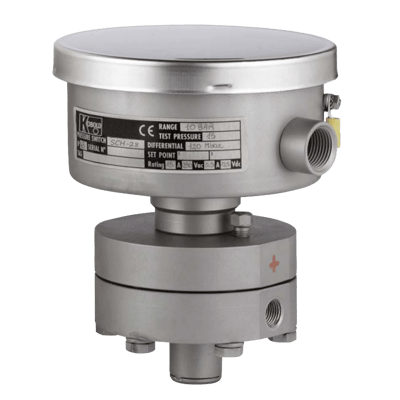 Images are representations only.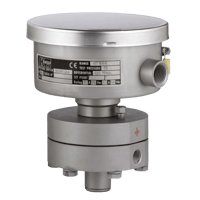 These Differential pressure switches are IP65, and suitable for a variety of applications such as: food industry, cannery, petrochemical, conventional and nuclear power station where it is required to control differential pressure, level, flow.

The sensing element is a metallic diaphragm with two metallic bellows and acts directly on the microswitch through a self-centering pivot.

The simplicity of the design, without levers, cams or similar mechanism, gives the unit an exceptionally long working life.
Specifications
Adjustment Type
Internal, Micrometric Adjustable
Ambient Temperature Range
-25° to 65° C (-13° to 149° F)
Applications
Conventional & Nuclear Power Station
Food Industry
Petrochemical Plants
Pharmaceutical
Approvals & Certifications
Cover Material
304 Stainless Steel
Bayonet Lock
Differential Pressure
Fixed, Adjustable from 10 % to 50 % of Setting Range
Electrical Rating
0.1 A at 24 Vdc Resistive Load
1 A at 125 Vac Resistive Load
15 A at 125 Vac Resistive Load
15 A at 250 Vac Resistive Load
20 A at 125 Vac Resistive Load
20 A at 250 Vac Resistive Load
6 A at 24 Vdc Resistive Load
Materials of Construction
321 Stainless Steel - Bellows
AISI 304 Stainless Steel - Tag
NPT Connection
1/2" NPT Female
1/2" NPT Male
1/4" NPT Female
Pressure Range
psi: 0 to 145.038 (kPa: 0 to 1000, bar 0 to 10)
Process Connection Material
Process Temperature
100° C (212° F) - Maximum
Repeatability
≤ 1 % - Full Setting Value
Set Point - Decreasing
bar: 0 to 10
kPa: 0 to 1,000
psi: 0 to 145
Set Point - Increasing
bar: 0 to 10
kPa: 0 to 1,000
psi: 0 to 145
Switch Type
1 to 2 SPDT Microswitches
Temperature Range
100° C (212° F) - Maximum
Thermal Drift
≤ 0.05 %/°C (≤ 0.027 %/°F)