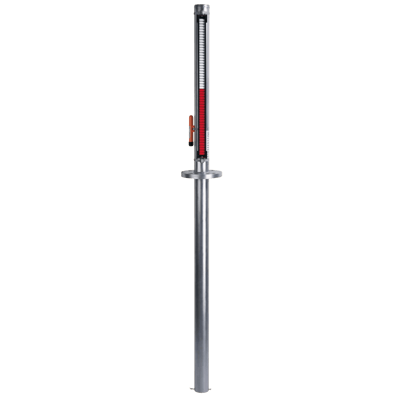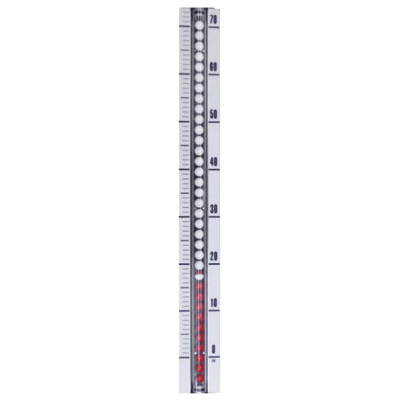 Images are representations only.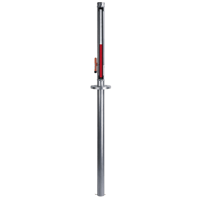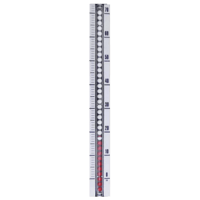 Kobold over-head level indicators are used for continuous measurement, display and monitoring of liquid levels.

The float inside the tank is attached by means of a connecting rod to the magnet carrier in the over-head tube. The magnet fitted in the magnet carrier operates, in a non-contacting manner, the display and monitoring devices fitted outside tube.
Features
Measuring length: maximum 4000 mm
Maximum pressure: PN 16 / Class 150
Maximum temperature: 120° C
Viscosity: maximum 200 mm²/s
Connection: DIN EN 1092-1 flange DN 50 / 65, ASME B 16.5 flange 2", 2-1/2"
Material: stainless steel 1.4571
Insensitive magnet roller display or ball display without auxiliary energy
Limit contacts
Analog output, HART®, Profibus-PA®, Foundation Fieldbus®
Specifications
Ambient Temperature Range
-40° to 145° C (-40° to 293° F)
Applications
Aggressive Media
Mixing Vessels
Storage Tanks
Water Tanks
Approvals & Certifications
Ball Material
Brown Anodised Aluminum - Support Rail
Ultramid & Ultramid B
Communication
FOUNDATION Fieldbus ITK 4.51
HART
Loop Link 5905A
PROFIBUS PA (EN 50170 Standard)
Electrical Contacts
Bistable Changeover Contact
Normally Closed & Normally Open
Electrical Rating
0.1 A at 24 Vdc
230 Vac/dc, 1 A, 60 W/VA
250 Vac/dc / 1 A / 80 VA
400 Vdc / 250 Vac, 0.5 A, 5 W
Enclosure, Body Material
Aluminum Pressure-Cast
Polycarbonate
Flange Size - 2" (DN 50)
2" (DN 50) - 150# ASME
2" (DN 50) - PN 16
Flange Size - 2-1/2" (DN 65)
2-1/2" (DN 65) - 150# ASME
2-1/2" (DN 65) - PN 16
Hysteresis
0.27" to 0.59" (7 to 15 mm)
Isolation
1.5 kVac / 50 Vac - Isolation Voltage, Test/Operation
Length
1.96 to 13.12 feet (600 to 4,000 mm) - Measuring Length
Materials of Construction
304L Stainless Steel - Carrier Frame
316Ti Stainless Steel - Connecting Rod
Borosilicate Glass - Sight Tube
Makrolon - Sight Tube
Plexiglass - Display, Sight Tube
Polypropylene - Roller
Titanium - Float, Connecting Rod
Operating Temperature
-50° to 120° C (-58° to 248° F)
Output
4-20 mA
FOUNDATION Fieldbus & PROFIBUS PA
Output Noise
Minimum 60 dB - Signal to Noise Ratio
Plug Material
304L Stainless Steel - Sealing Plug
Aluminum - Sealing Plug
Process Temperature
-50° to 120° C (-58° to 248° F)
Resistance
0 to 10,000 ohms - Input Linear Resistance
1 kiloohms - On
11 kiloohms - Off
Scale Panel Material
304L Stainless Steel
Hard PVC
Switch Type
Transistor: Normally Open & Normally Closed, Bistable
Voltage Drop
2.5 V, Maximum
3.3 V at 4 mA - LED
3.7 V at 20 mA - LED