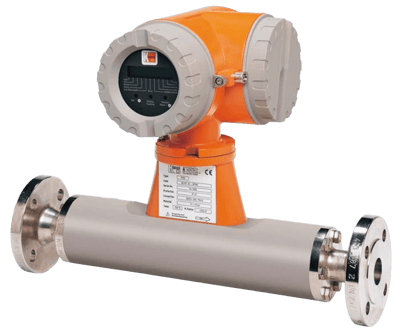 Images are representations only.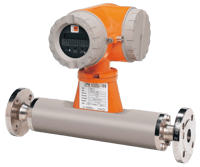 Coriolis flow measurement is described as a direct or dynamic technique; it supplies a signal that is proportional to the mass flow, and practically independent of material properties, such as conductivity, pressure, viscosity, or temperature.

A Coriolis force occurs when linear motion and rotary motion are superimposed on one another. In industrial systems incorporating this principle, mechanical vibrations occur at the point of rotary motion. Fluid flowing through two tubes causes the tubes to resonate.

The mass flow alters the phase angle of the vibration, which produces a phase difference between the vibration at the tube inlet and that at the tube outlet. This phase difference is proportional to the mass rate of flow; it is amplified to form the output signal.

The resonance frequency of the measuring tube is a function of the resonating mass in the tube, and therefore a function of the medium density. (A regulating circuit ensures that the system is constantly resonating.)

The resonance-frequency displacement, which arises from the thermal expansion of the material of the measuring tube, is compensated by temperature measurement. The measured temperature corresponds to the medium temperature
Specifications
Accuracy
± 0.35 % of Measured Value ± 0.01 % of Full Scale - Liquids
± 0.75 % of Measured Value ± 0.01 % of Full Scale - Gases
Ambient Temperature Range
-20° to 60° C (-4° to 140° F)
Applications
Deionized Water
Fluids & Low Conductivity Solvents
Food Oil
Fuel Oil & Gases
Consumption
15 VA
15 W (Dc) - Power Input
Display
2 Line LCD Display Each 16-Digits, Backlit
Electrical Rating
13.5 A (< 50 ms) at 24 Vdc - Maximum
3 A (< 5 ms) at 260 Vac - Maximum
Enclosure / Body Material
Varnished Aluminum Die Casting, Powder-Coated
Flange Size - 1" (DN 25)
1" (DN 25) - 150# ANSI
1" (DN 25) - 300# ANSI
1" (DN 25) - PN 100
1" (DN 25) - PN 40
Flange Size - 1/2" (DN 15)
1/2" (DN 15) - 150# ANSI
1/2" (DN 15) - 300# ANSI
1/2" (DN 15) - PN 100
1/2" (DN 15) - PN 40
Flange Size - 1-1/2" (DN 40)
1-1/2" (DN 40) - 150# ANSI
1-1/2" (DN 40) - 300# ANSI
1-1/2" (DN 40) - PN 100
1-1/2" (DN 40) - PN 40
Flange Size - 2" (DN 50)
2" (DN 50) - 150# ANSI
2" (DN 50) - 300# ANSI
2" (DN 50) - PN 100
2" (DN 50) - PN 40
Flange Size - 3/8" (DN 10)
3/8" (DN 10) - 150# ANSI
3/8" (DN 10) - 300# ANSI
3/8" (DN 10) - PN 100
3/8" (DN 10) - PN 40
Loop Resistance
5 Kilohms
700 ohms, Maximum
Materials of Construction
904L Stainless Steel - Measuring Tube
Maximum System Pressure
psi: 1,450 (kPa: 10,000, bar: 100)
Nominal Pressure
psi: 580.2 (bar: 40, kPa: 4,000)
Output
250 mA
30 Vdc, Maximum
4-20 mA
Open Collector
Passive/Active
Power Requirement
16-62 Vdc
20-55 Vac (45 to 65 Hz)
85-260 Vac (45 to 65 Hz)
Process Temperature
-40° to 125° C (-40° to 260° F)
Repeatability
± 0.15 % of Measured Value ± 0.005 % of Full Scale - Liquid
± 0.35 % of Measured Value ± 0.005 % of Full Scale - Gases
Temperature Effect
± 0.002 % of Full Scale/°C